By Colin Benjamin
The encounter was hyped as the "battle of spinners" by erudite cricket pundits.
The first day's action went according to prediction as spin catapulted Guyana into the driver's seat against  Trinidad on the first day of their third round fixture of the West Indies Cricket Board (WICB) three-day under 19 tournament.
On a slow, but fairly batting-friendly surface at the Everest Cricket Club ground, leg-spinner Amir Khan took advantage of some reckless Trinidad and Tobago batting, to claim impressive figures of 6 for 50, as Guyana left the islanders reeling on 166  for 9 when bad light stopped play at 5.52pm.
The game commenced at 1:10 pm after early morning showers which resulted in 150 minutes of play being lost in the first session, due to wet patches on various part of the outfield.
Guyana stayed unchanged for the third consecutive game while Trinidad, who won to toss and predictably chose to bat first on the rain interrupted first day, made one change from the previous encounter, replacing opener Christian Herrera with middle-order batsman Emmanuel Lett.
A lively opening 30 minutes of play saw a pugnacious duel between the two West Indian under-19 players. Trinidad's Keiron Joseph and Guyanese captain and new-ball pacer Ronsford Beaton.
Beaton, supported by Clinton Pestano, beat the bat of both openers numerous times, which was countered by the `Trini' openers hitting an array of lovely cover drives, as Trinidad got off to an energetic start of 43 without loss after 11 overs. They had managed to win that early key battle of any cricket contest, by nullifying the new-ball pair who struggled to make inroads with the new cherry on the sluggish Everest surface.
However, the introduction of the spinners on a wicket widely expected to assist them, immediately reaped dividends.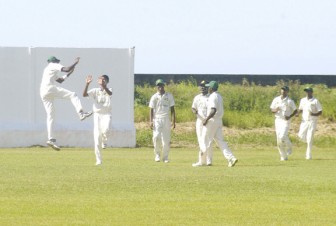 Oener Duane Cockburn, who was looking compact against the fast-bowlers, attempted an ugly swipe across the line in Khan's second over and was dismissed for 19.
Trinidad were the 43-1 in the 13th over.
The spinners began to put the stranglehold on the Trinidad batting line-up and a crescendo of appeals and close calls became the trend of the afternoon session.
Joseph became stuck after he had raced to 22 at one stage and he was dropped twice first by Chanderpaul Hemraj off the bowling of off-spinner Jamal La Fleur when he was on 26 and then at silly mid-off by Dominic Rikki, a difficult chance, off the bowling of Khan when on 29.
Frustration was at this stage taken over in Joseph's batting as his team's innings had stalled dramatically, with just 19 runs scored in 12 overs. He attempted to break the shackles in the 24th over aiming to loft Essequibo left-arm spinner Anthony Adams over the top, but managed to just tamely hit a catch to Beaton at mid-off.
The talented Trinidad middle-order batsman and early tournament leading run-scored Akeal Hosein, came in at number four.
He had scores of 98 and 68 in Trinidad's opening round matches versus Jamaica and Windward Islands respectively and he immediately began to stamp his authority hitting left-arm spinner Adams for a technically perfect straight drive past the umpire and the stumps, along with a glorious cover drive in one-over, which brought rapturous applause from the few Trinidad supporters present in the crowd.
However, in the same over Hosein hit a drive to cover, ran down the pitch admiring his shot, thinking the fielder Hemraj had misfielded, only to have to scamper back hurriedly.
But he fell short of his crease and was run out quite ridiculously.
Wickets continued to tumble as Khan begun to forage in his element leaving the boys from the twin island republic in a spin with his repertoire of leg-breaks, googlys and top-spinners.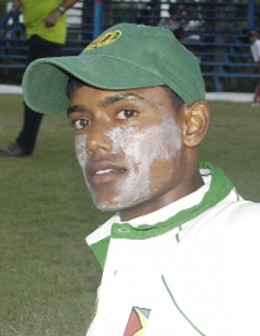 Next to go was number three batsman Emmanuel Lett who was caught at silly mid-off by vice captain Kwame Crosse for a stodgy innings of nine from 61 deliveries. Then in the final over before the tea interval competent all-rounder Derone Davis,  attempted a unnecessary lofted drive, to give Beaton his second catch off Khan falling for a second ball duck, as Trinidad went into the interval in a spin on 75 for 5, with Khan at stage bagging three wickets for 123 runs from  11.2 overs.
After the interval the Guyanese gradually began to chip away at the Trinidad lower-order. First to go was skipper Steven Katwaroo who was bowled by Adams attempting to whip a straight delivery through the on-side.
A 34-run seventh wicket partnership between Saivon Lara (26) and Isaiah Rajah (15) stalled the Guyanese before Rajah lofted a catch to mid-off to make it a hat-trick for the "ct Beaton b Khan" combination for the day.
Khan soon afterwards claimed his fifth wicket as the trend of  aerial shots from Trinidad batsman for the day continued.
Lara, who was looking compact in his vigil of 26 from 71 deliveries, aimed for a big booming drive and just managed to slice his shot straight up in the air, where Gudakesh Motie-Kanhai who did not have much bowling to do, took an easy catch.
When he claimed his sixth wicket that of number nine Idres Mohammed caught at the wicket by wicketkeeper Kevon Boodie, with the score on 147 in the 58th over, Khan was in sight of equalling or bettering the eight wicket haul he took in last year's tournament versus defending three-day champions Windward Islands.
A irritating last wicket partnership between Stephen Sooklal and Jovan Ali of 19 in 12 overs, frustrated Khan who was in a marathon spell of bowling of 17 overs unchanged from the second hour's play to an hour after tea, as they took Trinidad to the close without suffering the ignominy of being bowled out on the weather truncated opening day.
Play today resumes at 9:30, where potentially Trinidad's will be hoping that their spinner can bring them back into this contest on a pitch that will certainly assist them. While the Guyanese will be looking to wrap up the innings and claim first innings points.

Scoreboard
T&T 1st innings
K. Joseph c Beaton b Adams                             30
D. Cockburn lbw b Khan                                    19
E. Lett c Crosse b Khan                                         9
A. Hosein run out                                                10
S. Lara c Motie-Kanhai b Khan                        26
D. Davis c Beaton b Khan                                    0
S. Katwaroo b Adams                                          10
I. Rajah c Beaton b Khan                                    15
I. Mohamed c wkp Boodie b Khan                    15
S. Sooklall not out                                                16
J. Ali not out                                                           3
Extras (b7, lb1, nb5)                                          13
TOTAL (9 wkts, 70 overs)                              166
Fall of wickets: 1-43, 2-62, 3-72, 4-74, 5-75, 6-95, 7-127, 8-138, 9-147.
Bowling: R. Beaton 10-2-30-0, C. Pestano 3-0-12-0, J. La Fleur 8-2-22-0, A. Khan 29-11-50-6, A. Adams 17-6-36-2, G. Motie- Kanhai 3-0-8-0
Toss: T&T
Umpires: Francis Maurice & Michael Morton.
Around the Web