Reigning Guyana Open champion Avinash Persaud powered his way to victory in the Wartsila Golf Tournament on a day that saw some high scores at the Lusignan Golf Club thanks to very slick greens, tricky pin positions and strong winds.
Persaud, Gross 78,  won the competition. His prizes included a new wedge, a box of golf balls and the winner's trophy.
Second place went to the best net player – Muntaz Haniff, with a net 68, while the third prize (second best gross) went to Colin Ming with a gross 82.
Fourth prize (net runner up) went to Christine Sukhram, net 71.
Nearest to the pin winners were Mohanlall "Santo" Dinnanauth and Roy Cummings. The course was in good condition, although the rough remained very punitive for those straying from the fairways, and the rehabilitated bunkers also caused problems. Added to that, extremely fast greens and pin positions  saw numerous three and four putts, and most players were put under some pressure to come remotely near to their handicaps.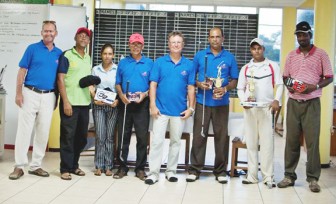 Wartsila, which is currently installing new generators in the country, went all out for the tournament thanks to team member Matti Wesslin who approached the club to sponsor the event. In his presentation address, Club Secretary William Walker, said the Finnish-based company, had raised the sponsorship to a generous $350,000 and this was reflected in the quality prizes valued at $100,000 as well as free snacks and drinks for the players. The result was a large turnout of 40 players.
Walker expressed the hope that Wartsila would win more contracts here so that Guyana could receive more reliable electricity and the club more great golf tournaments. Wesslin in his remarks thanked the ground staff for their hard work to get the course in shape and the executive for organising the event.
He said he would indeed work to ensure that at least for 2012 there would be a similar tournament.
This long weekend will see the return of sponsor Sanjay's Jewellery on Saturday and on Monday a farewell tournament for Canadian High Commissioner Francois Montour.
Around the Web