Despite dropping captain of the Leeward Islands team Rakeem Cornwall before he reached his half century, the Windward Islands still made inroads to hold a slight advantage after the first day of their West Indies Cricket Board (WICB) Under-19 Three-day match at the Georgetown Cricket Club ground, yesterday. Cornwall stamped his authority at one end but had to watch as wickets fell on the other end before bad light stopped play at 17:54 hours with his team on 158-6 after 61 overs. Twenty-nine overs were lost due to early morning showers causing the third round matchup to commence at 14:00 hours.
Leeward Islands won the toss and opted to bat.
Cornwall's innings was a mixture of aggression and restraint and it was chanceless until he was dropped on 41 by Shaquille Browne, running in from long off, when the score was 136-5. He later brought up his landmark after facing 66 balls, which included six fours and a six, from 65 minutes.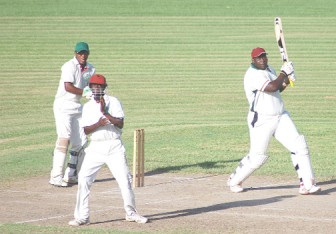 In the end he was on 55 while Wasim Mentis was on two. He had earlier shared in a 44-run fourth wicket partnership with Akeem Saunders (25).
Apart from that, the Leeward Islands' batsmen got starts and lost wickets on at regular intervals.
The next significant scores were from opener Elijah Peters (30), who faced 100 balls and hit three fours in 127 minutes, and number three batsman Shaquille Martina (21). Windwards' left arm spinner Larry Edward was again among the wickets, grabbing 4-41 from his 22 overs. He got support from Terron Simon (1-31) and Preston Mc Sween (1-33) who bowled nine and 11 overs respectively.
Scoreboard
LEEWARDS 1st Innings
E Peters c wkp Ambris b Simon                  30
D Webbe c wkp Ambris b McSween             8
S Martina b L Edward                                   21
A Saunders c and b Edward                        25
R Cornwall not out                                         55
L Audain lbw b Edward                                  0
N Henry c Hodge b Edward                          6
W Mintos not out                                              2
Extras (b1, lb3, w6, nb1)                            11
TOTAL (6 wkts, 61 overs)                        158
Fall of wickets: 1-21, 2-52, 3-89, 4-133, 5-135, 6-155.
Bowling: Jordan 4-2-6-0, Browne 8-0-26-0, McSween 11-3-33-1, L Edward 22-7-41-4, Simon 9-2-31-1, Hodge 7-0-17-0
WINDWARDS: K Hodge, S Ambris, E Peter, D Thomas, K George, L Edward, A Edward, R Jordan, S Browne, T Simon, P McSween
Toss: Leeward Islands
Umpires: S Crawford, C Alfred.
Around the Web