By Treiston Joseph
Edmond Declou and Joel McRae will do battle for the Interim Middleweight Title of Guyana when the 17th edition of the Fight Night card punches off tomorrow night at the Cliff Anderson Sports Hall (CASH) from 20:00hrs.
The event has been organized by the Guyana Boxing Board of Control (GBBC).
The 10 round match-up will feature both fighters with similar winning records as Declou boast a record of 6-1-1 while McRae is a bit more experienced with a record of 8-1-1.
With Declou absent since he lives in Linden, McRae who was based in Trinidad and lost his first match back on last month's card, gave his thoughts on the possible outcome of the championship bout at a press conference held yesterday at the National Communication Network (NCN) Studious.
"I have to label this as a redemption fight; I don't really want to make any predictions but I'm looking for a knockout, somebody has to go to prove who the better man is," McRae stated.
When asked what he will do differently to come out with a possible win, McRae stated: "Well, I don't want to give away too much of the game plan but my fitness level is there. We are working on some other to things in the Gym as well, I know I will be going against a moving target but every tree can get cut down," McRae concluded.
The night will also see Miguel Antoine (14-0-0) taking on veteran boxer, Cassius Matthews (4-5-1) in a four round Junior Welterweight match-up.
"I'm glad for this fight and it's a good opportunity for me, I don't want to say much but I have done my preparations for the fight and I'm certain of a win," Matthews stated of his match with the much younger and undefeated Antoine.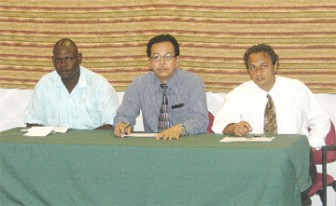 In the other two professional bouts Anthony Augustin (2-3-1) will match-up against Julian Tannis (4-16-2) in a four round heavyweight bout while Selwyn Lett (2-1-1) will touch gloves with Orlon 'Pocket Rocket' Rogers (3-11-0).
Meanwhile, the night will see Guyana's two amateur representatives at the upcoming Commonwealth Youth Games in the action come fight night when Marvin Ageday who will represent Guyana at the games will take on Kishon Simon in a three-round Junior Welterweight bout while Benjamin Henry, Guyana's other representative will face-off against Mark Anthony in a three-round bantamweight match-up.
The Commonwealth Youth Games is set for The Isle of Man on September 7-13.
However, Marlon Darrel will look to outclass Lester Fraser while Dexter Wray will battle Kevin Allicock in the other two amateur bouts.
President of the GBBC, Peter Abdool also stated at the press conference that the Fight Night cards has grown and is now being emulated in other Caribbean nations where a surge of fights are now taking place.
"well Guyana has led from the front and is now being emulated by our Caribbean counterparts with fight night cards so what is happening in the Caribbean is an enormous surge of fights which is good for the fighters and once they are active they can go for various titles," Abdool stated.
And at the Bolivarian Alliance for the Peoples of Our America (ALBA) Games in Venezuela, according to reports, two out of the six boxers have made it to the semifinals of the tournament.
Imran Khan has made it to the semifinal of the flyweight division while Samuel Primo is in the semifinal of the Heavyweight division.
Around the Web