The national women's hockey team preparing for an upcoming international engagement on Tuesday received sponsorship from Digicel.
The national team received the sponsorship at a Digicel held press conference at the Kingston Head Office in aid of their participation in the Pan American challenge in Brazil from July 31 to August 7.
The Pan American Challenge competition is a five-nation event among Paraguay, Uruguay, Brazil, Bermuda and Guyana.
The top two qualifiers will advance to the Pan American Cup which is a qualifier for the World Cup.
Chantelle Fernandes, captain of the women's national team thanked Digicel for their support and also spoke of the preparation of the team for the event.
"Well first of all I would like to thank Digicel for their sponsorship… our team started training earlier this year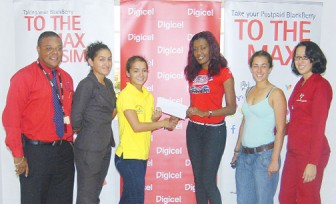 and made trips to Trinidad to play against their team which is one of the best teams in the Caribbean and we improved with every game so I'm satisfied with our preparations," Fernandes stated.
However, while hockey is played on an artificial turf, Guyana is without such a surface and could possibly face difficulties if they are to make it past the challenge which Fernandes referred to at the press conferences.
"Hockey is played on an artificial turf and we can't continue to play on grass if we are to get to the other stages," Fernandes concluded.
Digicel's Public Relations Manager, Shonnet Moore wished the team well and pledged Digicel's support to hockey and sports in general at the press conference.
Around the Web