By Colin Benjamin
Guyana 103 (Hemraj 49, Davis 4-30, Mohammed 2-25, Hosein 2-3) and 6/1 (Surujnarine 6*, Khan 0*) need 147 to beat Trinidad 191 and 64 (Adams 5-16, Motie-Kanhai 3-0, Beaton 2-23)
On a day in which spin exposed the faltering techniques and temperaments of both batting sides, which caused the pendulum  to swing from one team to the other, 22 wickets fell, 18 to the spinners for a total of 198 runs, and, at the close of play, Guyana were 6-1 chasing 153 for an outright win.
Trinidad, 166-9 overnight, resumed yesterday morning at 9:30am as the umpires tried to make up for time lost to rain on day one.
Trinidad's number 10 and 11 Stephen Sooklal and Jovan Ali continued to frustrate the Guyanese, displaying  the kind of assured batting against the spinners that would have certainly made their top-orders feel ashamed of their efforts on Tuesday.
The 54-run last wicket stand was finally ended in the first over after the drinks break when Sooklal,  on 36, was caught by wicket-keeper Kevon Boodie prodding at a  delivery from Guyana captain and fast-bowler Ronsford Beaton, as Trinidad were dismissed for 191.
Amir Khan although he failed to add to his overnight haul, still ended with the best analysis for the home side with 6-66.
Guyana began their reply aggressively with opener Kevon Boodie blasting two off-side boundaries off  left-arm medium pacer Sooklall.
Five more overs of ineffective medium pace bowling from Sooklall and Saivon Lara saw Guyana race to 29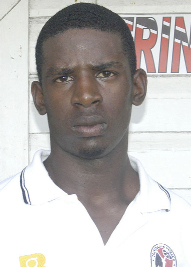 without loss in the sixth over.
However, the second day was panning out in similar correlation to day one. Spinners into the attack = decline in scoring = wickets – and that's what how the cookie crumbled.
Boodie's dismissal, though, had nothing to do with the aforementioned equation – but rather a piece of lazy cricket.
A straight drive from fellow opener Kandsammy Surujnarine which was deflected onto the stumps at the non-strikers end by medium pacer Lara, saw Boodie backing up too far, being dismissed for a promising 19 decorated with three boundaries.
Trinidad and West Indies under 19 left-arm spinner Derone Davis with his unusual style of bowling, then  went into action. Next to go was Surujnarine who was  leg-before wicket, playing forward tentatively with the score on 32.
Dominic Rikhi, who never looked comfortable, as he struggled to pick Davis's variations, ended up driving loosely at a flighted delivery outside the line of off-stump and Akeal Hosein snapped up a sharp catch a first slip.
Davis concluded a wonderful first session fight-back by Trinidad when he had vice-captain Kwame Crosse leg-before wicket playing back in his crease.
At lunch, Guyana were tottering on 46 for 4 in the 20th over with Chanderpaul Hemraj holding the fort on three not out.
After the interval the procession continued for the Guyanese batsmen as Davis and off-spinner Idress Mohammed checked Guyana's reply. First to go after the interval was Jamal La Fleur who was caught at short mid-wicket attempting to pull a delivery from Mohammed.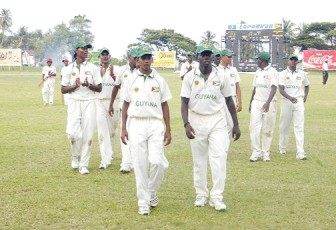 Next to go was Anthony Adams who was leg-before to Davis then finally Clinton Pestano, aiming to hit Mohammed probably into the YMCA ground, held out to long off, as Guyana collapsed to 70 for 7 in the 30th over.
Hemraj stood alone at the other end on 13 not out – but no one was staying with him.
Amir Khan joined Hemraj him and his compact defense aided in bringing a mini-revival to Guyana's reply as Hemraj began to expand on his range of shots.
An array of technically perfect cover drives off the two Trinidad spinners, that pierced the well guarded off-side field really highlighted the youngster's talent and,  in partnership with Khan, who defended stolidly – they took Guyana over the 100 mark in the 43rd over.
Khan's resistance soon ended after the team passed that landmark when his 42-ball innings of two ended as he was leg-before to part time spinner Akeal Hosein to end a 31-run eight wicket partnership with Hemraj.
Beaton then came and went before you could say – out. Instead of trying to support Hemraj, he tried to loft left-arm spinner Jovan Ali over the cover field, but was only successful in finding short cover in the 45th  over.
Guyana were dismissed for 103 when Hemraj fell one short of what would have been a well compiled half-century.Attempting to drive a delivery from spinner Hosein he gave Davis his third catch of innings.
Trinidad with a lucrative first innings  lead of 88 runs, stuttered to 27 for 3 at the tea interval when middle-order linchpin Akeal Hosein became Essequibo left-arm spinner Adams's second victim caught behind for 2. The home side were making diligent effort to wrest the initiative back on the spinner friendly track.
After the break, a mixture of disciplined Guyana bowling and faulty techniques and temperament from the Trinidad batsmen saw their last seven wickets fall for 37 runs, as they were bundled out for 64, with extras embarrassingly being the top score with 11.
Essequibo and Berbice left-arm spinners Adams and Gudakesh Motie-Kanhai, in different styles, were the chief wicket takers with figures of 12-5-16-5 and 2.2-2-0-3, respectively.
Beaton supported well, bending his back on the benign surface to claim 2 for 23 from nine aggressive overs.Chasing a gettable  score of 153 for a come-from-behind win, Guyana lost Boodie leg-before to Davis.
Night watchman Khan joined opener Surujnarine and they survived nine tense overs  to enter today's final day in which both sides will realistically fancy their chances of victory.
Scoreboard
T&T 1st innings
(overnight 166 for nine)
K Joseph c Beaton b Adams                        30
D Cockburn lbw b Khan                              19
E Lett c Crosse b Khan                                     9
A Hosein run out                                           10
S Lara c Motie-Kanhai b Khan                  26
D Davis c Beaton b. Khan                             0
*S Katwaroo b Adams                                   10
I Rajah c Beaton b Khan                              15
I Mohamed c wkp Boodie b Khan             15
S Sooklall c wkp Boodie b Beaton            36
J Ali not out                                                    6
Extras (b9, lb1, nb5)                                  15
TOTAL (all out, 89 overs)                      191
Fall of wickets: 1-43, 2-62, 3-72, 4-74, 5-75, 6-95, 7-127, 8-138, 9-147, 10-191.
Bowling: Beaton 12-4-30-1, Pestano 6-3-12-0, La Fleur 8-2-22-0, Khan 37-14-66-6, Adams 17-6-36-2, Motie-Kanhai 6-3-15-0.
GUYANA 1st innings
K Surujnarine lbw b Davis                                   5
+K Boodie run out                                                  19
D Rikhi c Hosein b Davis                                        7
C Hemraj c Davis b Hosein                                49
K Crosse lbw b Davis                                              5
J La Fleur c Davis b Mohamed                           3
A Adams lbw b Davis                                           2
C Pestano c Cockburn b Mohammed               3
A Khan lbw b Hosein                                            2
*R Beaton c Davis b Ali                                        0
G Motie-Kanhai not out                                       0
Extras (nb8)                                                           8
TOTAL (all out, 36.2 overs)                          103
Fall of wickets: 1-29, 2-32, 3-39, 4-46, 5-51, 6-57, 7-70, 8-102, 9-103, 10-103.
Bowling: Sooklall 3-0-16-0, Lara 3-0-13-0, Davis 16-6-30-4, Mohamed 14-3-25-2, Ali 6-2-16-1, Hosein 4.2-3-3-2.
T&T 2nd innings
D Cockburn lbw Beaton                                     7
E Lett c and b Adams                                          8
S Lara lbw b Adams                                            5
A Hosein c wkp Boodie b Adams                      2
D Davis b Adams                                                4
K Joseph c Khan b Motie-Kanhai                    8
*S Katwaroo c wkp Boodie b Beaton              4
I Rajah lbw b Adams                                          6
I Mohamed not out                                             9
S Sooklall c and b Motie-Kanhai                      0
J Ali lbw b Motie-Kanhai                                  0
Extras (b9, w1, nb1)                                       11
TOTAL (all out, 33.1 overs)                         64
Fall of wickets: 1-18, 2-23, 3-25, 4-34, 5-35, 6-40, 7-55, 8-64, 9-64, 10-64.
Bowling: Beaton 9-2-23-2, La Fleur 2-0-6-0, Adams 12-5-16-5, Khan 8-5-10-0, Motie-Kanhai 2.1-2-0-3.
GUYANA 2nd innings (target: 153)
K Surujnarine not out                                     6
K Boodie lbw b Davis                                       0
A Khan not out                                                  0
TOTAL (1 wkt, 9 overs)                                   6
Fall of wickets: 1-1.
Bowling: Davis 5-3-3-1, Mohamed 3-1-3-0, Hosein 1-1-0-0.
Position: Guyana require another 147 runs for victory.
Toss: T&T
Umpires: Francis Maurice & Michael Morton.
Around the Web