Guyanese Test and One Day International (ODI) umpire Clyde Duncan passed away yesterday in Trinidad & Tobago at the age of 57 while seeking medical attention for cancer.
Duncan officiated in two Test matches in the early 1990s and his international career spanned 1988-2010. His debut ODI was between West Indies and Pakistan in 1988 at Bourda and stood in his last international match in Antigua last year when West Indies played South Africa.
Duncan, who was also taught at the St. John's College, Tucville Secondary and the Government Technical Institute (GTI), also stood in 21 ODIs and six Twenty20 Internationals.
He performed third and fourth umpire duties in numerous other international matches while he was a member of the ICC International Panel. He was born on January 7 1954 and is survived by his wife Fay and children Dr. Tracey Duncan-Clarke, Joanna, Troy and Susanna.
Yesterday, former Guyanese test bowler Colin Stuart said that Duncan will be missed and that he brought "special gifts of knowledge and fairness to the table".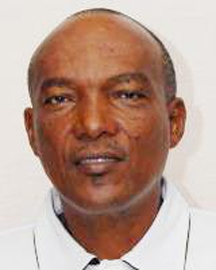 Stuart said that Duncan was always willing to guide and lend assistance, not only to umpires, but to other cricket officials.  "In terms of the knowledge base there was a lot to be learnt from Clyde and he was always the person to encourage. As a player he took a position that was impartial and fair especially since the umpiring aspect at times is difficult in terms of giving fair decisions. "I think that he will be truly missed and it was a bit shocking when I learnt of his passing especially since I worked with him earlier in the year", Stuart recalled.
Friend and former president of the Umpires' Association Colin Alfred said that he was shocked when he heard the news yesterday especially since Duncan was expected back on Friday. Alfred said that he was in constant contact with Duncan's youngest daughter Susanna to get news on his condition. Alfred, reflecting, said that Duncan was an outstanding individual and his most notable quality was being fair. Alfred also said that he was a very good umpire although he did not play cricket, prompting him to say that he was surprised when he was replaced as a Test umpire in the 1990s.
The former Queen's College and Bishops' High School student expressed his deepest condolences to the family. According to Alfred, Duncan will be remembered as a devoted father and husband.
President of the East Coast Cricket Board (ECCB) Bissoondial Singh in a statement on behalf of that entity said that Duncan was "a wonderful friend and mentor to so many young people especially cricketers.
"He was so well-respected and everyone always had such kind things to say about him. There are always people you meet in your life that care deeply about many things – in particular their families, setting a good example, living a good life and making their country proud.
"That is how Mr. Clyde Duncan struck me, as someone who was happy, satisfied, compassionate and often swollen with pride. I had the pleasure of working with Brother Clyde on many occasions over the years, particularly when he served as the secretary of Cricket World Cup Operations Committee T20, it was indeed a memorable experience for everyone. His contributions to the game of cricket and his Country, without a doubt was exemplary, he served with distinction. Sadly his great innings came to an abrupt end. Umpire Duncan will be greatly missed."
Around the Web