The Youth Basketball Guyana organization bounced off its youth basketball summer camp on Monday at the Cliff Anderson Sports Hall.
The camp will conclude on August 8. The camp which is for school children will take place everyday from 10:00hrs with the under-12 school children, the juniors will start from 13:00hrs while the females and the elite players will start at 16:00 and 18:00hrs respectively.
The programme will be aimed at improvingthe fundamental skill set of the youngsters to make them into better players according to president of the YBG, Chris Bowman.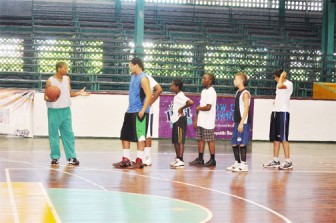 "Well this is a major part of our value in terms of youth basketball and teaching the kids fundamentals in the right environment is the idea. It's all about developing them fundamentally at a young age so we can get better from them in the future…its also aimed at helping them with a better understanding of the game, just a number of activities to improve their game," Bowman commented.
Speaking with one of the coaches of the programme, Wayne Hinds, who coached Bishops High School in the Division Two conference of the YBG Basketball Festival related his expectations of the programme to Stabroek Sport.
"The programme is based to get them fundamentally sound through different drills that will strengthen their game such as chess passes, bounce passes, rebounding left and right hand lay-ups, just establishing a proper foundation for the kids.
"We have about 15-20 kids right and I believe before the camp is finished we're going, the kids here have great potential and I believe this programme could help them to become the future of Guyanese basketball," Hinds told Stabroek Sport in an interview Monday.
Meanwhile, the programme will continue today from 10:00 at the Cliff Anderson Sports Hall
Around the Web