The Leeward Islands held on for a draw against defending champions Windward Islands in their rain-marred third round match in the WICB Three-day Under-19 tournament at the Bourda ground yesterday.
Undefeated batsmen Nino Henry (34*) and Rahkeem Cornwall (17*), skipper of the Leewards, stemmed the clatter of wickets as his team looked poised to be bowled out before they cleared their first innings deficit of 98 runs within a session. Yesterday's game started at 15:00 hours due to a soggy outfield caused by early morning showers.
By the close at 17:30 hours the Leewards had reached 86-5 from 35 overs. Left arm spinner Larry Edward was again the chief wicket taker with 3-28 while he got support from right arm pacer Shaquiile Browne with 2-12 as their team overtook their opponents on the standing board with 7.3 points.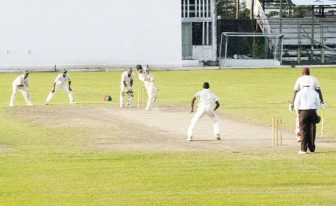 Leewards, which have 6.7 points and are currently in the cellar, were up against the wall after Windward's Kavem Hodge stroked a superb century, the first of the tournament. The 18-year-old from Dominica carved out an unbeaten 155 on a pitch which offered some turn to the spinners.
His knock had piloted the Windwards to 340-8 declared off just 76 overs with an impressive scoring rate of close to 4.5 runs per over. Hodge also shared in a 149-run forth wicket partnership with the flashy Sunil Ambris who stroked an exciting 84.
Meanwhile, when play started yesterday the Windwards pacers made good use of the moisture in the pitch and got the ball to climb, creating some uneasy moments for the batsmen. Shaquille Martina got a Browne delivery that rushed onto him causing him to sky it to midwicket. Browne, extracted the most bounce out of the pitch and worked up some pace early on, taking the first two wickets.
Leewards' first five wickets fell for 32 and only their opening batsman Duan Webbe (10) had reached double figures. Subsequently, Henry and Cornwall settled the nerves of the Leeward Islands bench by posting a 54-run sixth wicket stance.
During this partnership the team's first boundary was also scored by Henry when he drove Edward back down the pitch for four. When the two got settled they were composed while the defending champions ran out of tricks in their bid to capture the remainder of the wickets.
The points table after this round reads: Jamaica (28.0), Trinidad & Tobago (24.3), Barbados (20.3), Guyana (15.8), Windward Islands (7.3) and Leeward Islands (6.7). The next round of competition starts on Sunday.
Scoreboard
LEEWARDS 1st Innings                                                242
WINDWARDS 1st Innings 340 for eight declared
LEEWARDS 2nd Innings
E. Peters lbw b Edward                                                      10
D. Webbe lbw b Browne                                                      7
S. Martina c Peter b Browne                                                 0
A. Saunders lbw b Edward                                                   4
L. Audain st Ambris b Edward                                             2
R. Cornwall not out                                                            17
N. Henry not out                                                                 34
Extras (b1, lb2, w2, nb7)                                                    12
TOTAL (5 wkts, 35 overs)                                                  86
Fall of wickets: 1-8, 2-8, 3-13, 4-24, 5-32
Bowling: Jordan 3-2-3-0, Browne 3.4-1-15-2, Edward 14-3-28-3, Simon 4.2-0-22-0, Hodge 6-2-10-0, McSween 3-1-8-0, Edward 1-1-0-0
Result: Match drawn
Points: Windwards 6.3, Leewards 3.5
Around the Web