NOTTINGHAM, England, (Reuters) – England  captain Andrew Strauss has promised no repeat of the "silly"  jelly-bean incident that occurred the last time his team met  India in a test match at Trent Bridge four years ago.
"I think the guys are more mature now," Strauss told  reporters on the eve of today's second test against the  Indians. "They understand their responsibility to the team and  they know silly little things aren't helping the team win.
"The way we look at any test match, everything we do has to  be to help the team win. I think we have learned lessons from  that … it was a silly little thing and it won't be repeated."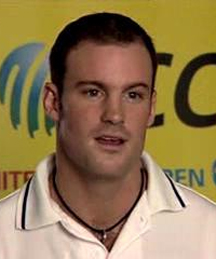 The 2007 game in Nottingham was an ill-tempered affair  remembered as 'jellygate'.
India won the match after pace bowler Zaheer Khan, missing  this week due to injury, claimed nine wickets. He took  inspiration from a prank by England's fielders which saw jelly  beans left on the pitch as he came in to bat.
Zaheer reacted by angrily pointing his bat at Kevin  Pietersen.
In the same match paceman Shanthakumaran Sreesanth was  warned for bowling a beamer at Pietersen and the Indian also  delivered a bouncer from 20, rather than 22, yards at Paul  Collingwood.
India skipper Mahendra Singh Dhoni said verbal banter was  okay but added that all the players needed to know what the  acceptable limits were.
"That was four years ago and I hope we can keep the    controversies away," said Dhoni. "I hope it will be a much  calmer test for the players and the match referee.
"You have boundaries and guidelines that need to be followed  so as long as you are below that line it's fair enough.
"You want a bit of chit-chat to go around because that's  what makes cricket more interesting. As long as nobody is  getting personal it's fair enough," added Dhoni.
England are 1-0 up in the four-match test series.
Around the Web