The Guyana Amateur Boxing Association (GABA) launched its Road to London Olympics project at a small ceremony on Wednesday evening at the Cliff Anderson Sports Hall and heard a plea for an initiative to stop boxers jumping ship.
Dignitaries present at the ceremony included Guyana Amateur Boxing Association president Steve Ninvalle, Guyana's solitary Olympic medallist from the 1980 Moscow Games Michael Parris, Guyana Olympic Association President K Juman-Yassin, Director of Sport Neil Kumar and Deputy British High Commissioner Michael Kearney.
Speaking to the media and delegation present, Ninvalle highlighted the aim of this initiative by his organization. "We have selected 16 boxers which we believe are the cream of the crop in Guyana's boxing talent that we have invested in with help from the government and the Guyana Olympic Association and we hope that will eventually be representing the Golden Arrowhead at the Olympics next year".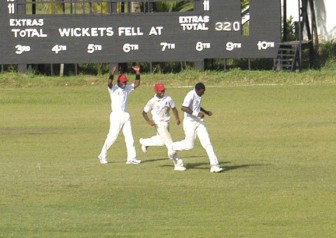 Also making comments was Guyana Olympic Association President Juman-Yassin who although he  was happy to be associated with the boxing shed light on some minor grievances that he has noted within Guyana's boxing fraternity. "We need to find a way to prevent boxers from jumping ship. Too many boxers in Guyana who are basically amateur unlike the rest of the world, after they win a few fights feel that they have made it and want to leave these shores (and) go professional. That's an unfair investment made by us in the GOA, the government and the private sector and all parties involved sooner rather than later have to sit and find a way to deal with this problem."
Kearney said his country is proud to host the games for the third time having previously done so in 1908 and 1948 and encouraged the local boxers to strive to make Guyana proud by aiming to claim a medal at next year's games.
Of the 16 boxers, six of them are currently in the ALBA games being held in Venezuela, while another two:  Benjamin Henry and Marvin Ageday will be present at the Junior Commonwealth Games on the Isle of Man later this year.
Photo Caption: At the Road to London launching. From left are Guyana's only Olympic medallist Michael Parris, Director of Sport Neil Kumar, GOA president  K Juman-Yassin, Deputy British High Commissioner Michael Kearney and GABA president Steve Ninvalle.
Around the Web