By Colin Benjamin
Barbados completed their demolition of the home side early on the final day yesterday, to claim an impressive innings and 52-run victory, in the final round of the West Indies Cricket Board (WICB) three-day tournament at Everest Ground yesterday.
The victory meant that the Barbadians secured third place behind second placed Trinidad and Tobago and winner Jamaica. The rain-truncated competition only saw cricket action being played in three of the five rounds.
The final day's play, commenced with the Guyanese resuming on 143 for 9, with numbers 10 and 11 Gudakesh Motie-Kanhai and Loyydel Lewis faced with the unlikely task of overhauling the 67-run deficit to make Barbados bat a second time.
The two little Berbice tail-enders, stuck around for 8.1 overs adding a further 15 runs to Guyana's total before off-spinner Chaim Holder claimed his 16th wicket of the tournament, when he had Lewis caught by wicket-keeper Mario Rampersaud, to complete Barbados victory and a highly disappointing tournament for the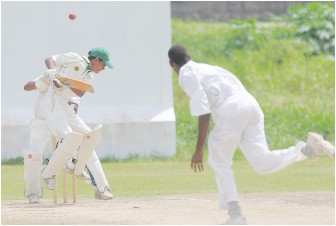 Guyanese who had fairly high hopes of winning.
Speaking to Stabroek Sports, Barbados coach, Dexter Toppin and skipper Kraigg Braithwaite gave their perspectives on the team performance in this game and overall in the three-day format.
"The boys performed well in this game and throughout the tournament really in my view. The only real blemish for us all competition was in our game versus Jamaica in the third round when we were bowled out surprisingly for 63. The rain affected us causing two  matches versus Trinidad and Leeward to be cancelled, games I am confident we could have which may have given us the title," lamented a confident sounding Toppin.
When asked if he was surprised at how easy the home side capitulated he replied.."Yes I was very surprised, usually coming to Guyana on these slow pitches, compared to our bouncy tracks back home, Barbados teams of all levels tend to struggle here, so I consider this victory a great one for Barbados cricket and I commend the quality of cricket played by my boys in pulling off such a convincing result. Now we are just focused on the one-day format where we hope the weather stays sunny and we can push to win that."
Skipper Braithwaite said that he was glad to finish to tournament with a century, while echoing the sentiment of this coach that the team was hoping to clinch the one-day format title.
The various teams have optional rest or practice days today and tomorrow before  the limited overs leg of the tournament bowls off on Monday, with Guyana taking on Trinidad at Bourda, Barbados vs Jamaica at Providence and Windwards v Leewards at D.C.C
Scoreboard
GUYANA 1st Innings 87
BARBADOS 1st Innings 297-8 decl.
GUYANA 2nd Innings
(overnight 148-9)
+K Boodie b Jones                                             8
L Austin b Greaves                                        10
K Crosse lbw b Jones                                        0
C Hemraj b Mayers                                         6
D Rikhi lbw b Mayers                                     2
A Adams b Parris                                            9
R Adams c wk Rampersaud b Holder      18
A Khan c Alleyne b Greaves                      36
*R Beaton b Parris                                         21
G Motie not out                                              16
L Lewis c wk Rampersaud b Holder           9
Extras (b14, lb4, w1, nb4)                        23
TOTAL (all out, 61.1 overs)                     158
Fall of wickets: 1-23, 2-23, 3-25, 4-31, 5-37, 6-59, 7-73, 8-115, 9-135, 10-158.
Bowling: Greaves 16-9-18-2, Jones 12-1-37-2, Mayers 7-1-16-2, Holder 15.1-5-36-2, Brathwaite 4-1-15-0, Parris 5-1-13-2, Alleyne 2-1-5-0
Result: Barbados won by an innings and 52 runs.
Points: Barbados 13.3; Guyana 0.1
Umpires: C. Alfred, E. Degalerie.
Around the Web