Kares Engineering inaugural 10/10 Tapeball competition continued on Saturday with seven more teams advancing to the next round of competition in the Georgetown zone at the Ministry of Education ground, Carifesta Avenue.
The highlight of the day's play was Brent Jacobs' 52 for Viper XI, an innings that, however, failed to get them past Guyana Post Office Corporation (GPOC) XI. Among the other winners on that day were Felix Austin Police College A, Tarmac All-Star B, Education Warriors, Kaikan Cosmos, Cargo Fighters and Tarmac All Star A.
In other results, Tennis Roll Squad was disqualified for fielding a player who represented another team following a complaint lodged by Cargo Fighters.
In results of the matches played,  GPOC XI batted first and scored 112-9 (10) with Jermaine Ramroop top scoring with 22 (2×4, 1×6) while Roxroy Smith and Joseph Cupidore offered support with 20 and 18 runs respectively. Jacobs struck five sixes and four fours in Viper's response but they could only muster 96 all out.
Earlier in the day, Trojan Warriors, who had gotten a walk over from Charlestown, faced Felix Austin A and lost. They batted first and were bowled out for 80 with R. Sookram top scoring with 24 as L. Thom took 2-11 for Felix Austin A.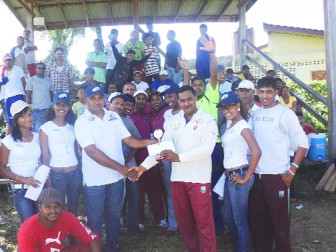 Felix Austin A replied with 81-5 on the back of E. De Jonge who top scored 21 (4×4). Felix Austin B, on the other hand, could not follow in their counterparts' footsteps, going under to Tarmac All Stars B by 14 runs. Tarmac All Star B scored 114-5 with Keshar Augustus making 28 (2×6, 1×4) and Travis Johnson, 17.
K. Boston captured 2-14 for Felix Austin B who were bowled out for 100 off the final delivery of their reply. T. Motilall contributed 38 (5×6, 1×4).
Devendra Lall (2-7), Sean Hughes (2-30) and Rakesh Persaud (2-30) were the chief destroyers.
Education Warriors defeated Kingston Cricket Club by six wickets. The Kingston batsmen were bowled out for 65 after which Education Warriors reached 66-4 from five overs.
Kaikan Cosmos dislodged the Lodge Young Gunners with a comfortable six-wicket victory. Batting first, Lodge Young Gunners made 90 runs with Aubrey Clarke contributing 47 that was decorated with six sixes and a four.
Christopher Devonish captured 5-28 as the Kaikan Cosmos replied with 91-4; Trevor Bailey contributed with 24.
Terry Liverpool struck four sixes and three fours in his 47 for Banks Warriors who managed 89 in their encounter against Tarmac All-star A, who reached 90-6 in reply. No individual scores were available.
In the last game of the day Cargo Fighters defeated Guyana Bank for Trade & Industry (GBTI) by 37 runs. Joshua Wade 45 (5×6, 3×4), Samuel Ward 25 (3×6) and Alex Ramalho 24 (2×6, 2×4) contributed to Cargo Fighters' 129-3. GBTI were then limited to 92 from their 10 overs, with Feroze Jafferally top scoring with 37 (3×6, 2×4).
Ramalho took two wickets for six runs.
Meanwhile, in the East Coast Demerara Zone B finals Progressive Youth (97-6) defeated Mc Gill Superstar (96-5) while in the Zone G finals Unity Lancaster (74-3) beat Chris Auto Sales (72-6).
Around the Web