The Enmore Athletic Club did Guyana proud, copping five gold medals, a silver and a bronze at the recently concluded Morvant Jets Mustang Games held recently in Trinidad and Tobago.
The club sent off an eight-member squad which included National 100 metres sprinter Kenneth Semple, under-18 100 metres champion Keon Lynch, under-15 100 and 20m sprinter Kevin Ramlall, under-20 100 and 200m sprinter Keifer Henry, under-18 200 and 400m sprinter Kadeem Peters, under-20 800 and 1500m athlete Malcolm Walcott, under-18 800 and 1500m athlete Ornesto Thomas and Manager/ Coach John Martin.
Thomas emerged the most successful athlete, winning two gold medals when he clocked 2:07.12s and 4:29.50s in the 800 and 1500 metres respectively. Lynch produced a 11.06s performance to run away with the boys under-18 100m; taking gold in the process while club mate Henry's 10.99s produced a bronze medal in the under-20 category. Lynch also clocked 22.14s in the 200m to claim fourth place, missing out on the bronze medal.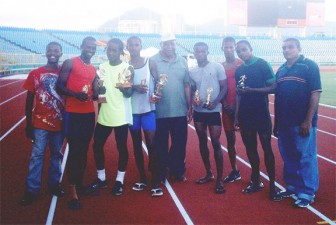 In addition, Peters won a gold medal in the boy's under-18 400m, clocking 50.93s to win the event.
He also competed in the 200m, finishing sixth in the final with a time of 23.42s. Walcott contributed to the medal tally when he clocked 4:24.46s to take silver in the boys under-20 1500m final while placing fifth in the 800m with a time of 2:00.93s. The under-18 boys medley relay that featured Lynch, Ramlall, Thomas and Peters outdid the field to win gold in the event. On the other hand, seasoned 100 metres campaigner, Kenneth Semple failed to make the men's 100m final when he clocked 10.72s winning third place in the heats. In a telephone interview with Stabroek Sport, Coach Martin said he was pleased with the squad's overall performance. He noted that he expected better from Semple and Walcott but "generally I think the team did well but I was a bit disappointed in the Semple, he should have done a better and faster time although he had a slight quad injury." Martin added that "Although Walcott improved in his 800m time from last year he dropped a bit in the 1500m but still managed to medal, fortunately for him but I think he should have done better there." According to Martin, Lynch and Henry did very well and "Thomas was outstanding and the gold medals that he had was expected because of his work ethic. Peters was also good because he is a very discipline athlete, so I would say that it was generally a good overall performance." The coach also extended gratitude to all the sponsors for making the trip possible. He noted too that he was looking forward to their continued support.
Around the Web