– pump reportedly 'burnt out'
After having been reopened in April following a nine-month long closure to effect repairs, the Colgrain Swimming Pool is again closed to repair an electrical fault.
In a telephone interview with Stabroek Sport on Monday, Director of Sports, Neil Kumar, said that due to power fluctuations the pool's pump had "burnt out." He said the problem should be rectified "in a few days". However, when this newspaper asked the director how long the pool had been out of order, he ended the call and all further calls went unanswered.
According to sources, it has now been two weeks now since the pool has been closed. This, coupled with the previous almost year-long closure to replace a damaged filter tank and effect other repairs, has caused officials from the Guyana Amateur Swimming Association (GASA) to be sceptical about how long it may be before they will be able to resume club sessions at the pool.
Vice President (Technical) for the GASA, John Perreira, noted that it is very frustrating to know that the pool again needs repairs so soon after reopening. "In effect what this is doing is not good for swimming," he said. Perreira said since the pool reopened, many parents and others have been going to the clubs and this new delay was very discouraging. "I just fed up, honest to God, I just fed up," he said.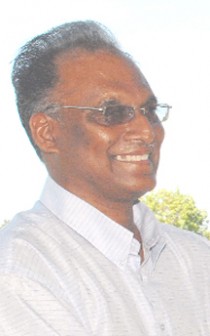 Kumar and Minister of Sports, Dr. Frank Anthony, reopened the pool on April 13 after it had been shut down since June 24, 2010. A three-month contract had been given to Fyffe Building and Contracting Services in July 2010 for the installation of a new filter tank and other renovations. However, as multiple deadlines for the reopening of the pool passed without any explanation from the ministry, frustration grew among club members and swimmers.
Some time later, it was relayed that inefficiency on the part of the contracting company caused the delays and the ministry eventually replaced them with services from contractor Lennox Hamilton. According to reports, this new contract cost about $6million, and, in addition to the stated repairs, a new pump was to be installed and other renovations done around the facility.
Further, at the April opening of the pool, a representative from General Equipment and Installation Services, noted that the pump's electrical system required a 60-cycle supply of electricity, against the 50-cycle being supplied by the Guyana Power and Light Company (GPL). It was noted that the system would be at risk of suffering a failure particularly if it was operated for an entire day.
Around the Web