Defending champions Trinidad and Tobago defeated Guyana by 26 runs at the Georgetown Cricket Club (GCC) ground Bourda in the opening round of the limited overs version of the West Indies Cricket Board's Under-19 tournament yesterday.
In lovely sunny conditions, Trinidad won the toss and elected to bat first. Trinidad was unchanged from their previous game, while Guyana recalled all-rounders Jamal La Fleur and Clinton Pestano in place of middle-order batsman Linden Austin and off-spinner Lloydel Lewis.
It was the recalled Pestano who struck first for the home side when he dismissed Duane Cockburn in the fourth over of the innings.
Trinidad then lost the in-form Emmanuel Lett comprehensively bowled by Ronsford Beaton, to progress for 38 for 2 at the end of first 10 mandatory power-play overs.
The Guyana spin trio of Amir Khan, Anthony Adams and  La Fleur caused a reduction in the scoring rate and predictably Trinidad lost wickets. Four wickets in fact, two of those wickets being important top order batsmen Keiron Joseph and Akeal Hosein for 27 and 29 runs respectively, for 44 runs in the next 17 overs, as they collapsed to 82 for 6 in the 28th over.
However, captain and West Indies Under-19 wicket-keeper Steven Katwaroo, shepherded the lower-order and tail intelligently with his first substantial score of this year's competition – an unbeaten 57. He was mainly supported by all-rounder Saivon Lara as they shared in crucial 54-run, seventh-wicket partnership, as Trinidad compiled a solid score by under-19 standards of 181 for 8 in 50 overs.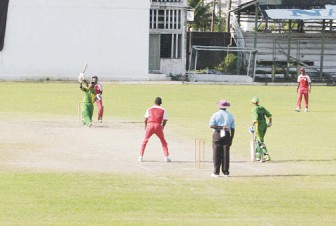 Guyana, in reply, saw their top six failing again as was the case during the three-day tournament.
Only a 57-run, third-wicket partnership from 87 balls, between Chanderpaul Hemraj and and Kwame Crosse stood out as Guyana plummeted to 104/8 at one stage when Amir Khan was bowled to give left-arm spinner Jovan Ali his fifth wicket in the 34th over.
The batting power-play was taken in the 36th over and for a while as captain Ronsford Beaton joined his Essequibo colleague Ricardo Adams during their 29-run ninth-wicket partnership, hopes of a comeback begun to surface.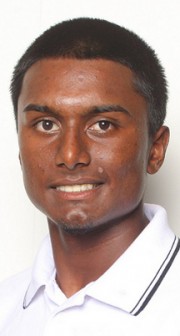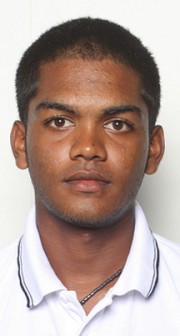 But a ridiculous run-out by due a lack of communication between the two scuttled that hope. Adams kept fighting as in the next over he launched Akeal Hosein for two massive sixes firstly into the pavilion and onto the roof of the Rohan Kanhai stand, but in another poor cricket moment, number 11 Gudakesh Motie was run out attempting a suicidal second run to end Guyana's disappointing chase.
The home side will have to lick their wounds quickly as they take on Leewards at the Everest Cricket Club ground today, while Trinidad tackles three-day champions Jamaica at Enmore. The Jamaicans also will be keen to improve after their crushing nine wicket defeat at the hands of Barbados yesterday.
Scoreboard
T&T
K. Joseph b La Fleur                                    27
D. Cockburn lbw b Pestano                          2
E. Lett b Beaton                                              2
A. Hosein b La Fleur                                   29
D. Davis lbw b Khan                                     4
*+S. Katwaroo not out                                57
I. Rajah c Khan b La Fleur                           0
S. Lara c Surujnarine b Khan                  28
I. Mohammed c Hemraj b Pestano            7
S. Sooklal not out                                           5
Extras (b4, lb1, w10)                                  15
TOTAL (8 wkts, 50 overs)                        181
Fall of wickets: 1-12, 2-22, 3-56, 4-76, 5-82, 6-82, 7-136, 8-159.
Bowling: Beaton 7-0-26-1, Pestano 8-0-46-2, Adams 10-1-30-0, La Fleur 10-0-23-3, Khan 10-0-31-2, Motie 5-0-20-0
GUYANA
K. Surujnarine c wkp Katwaroo b Sooklal    5
+K. Boodie c Joseph b Sooklal                           5
K. Crosse b Ali                                                    27
C. Hemraj lbw b Ali                                         29
J. LaFleur c Hosein b Davis                           16
A. Adams b Ali                                                    2
R. Adams not out                                             33
C. Pestano lbw b Ali                                          0
A. Khan b Ali                                                      0
*R. Beaton run out                                         21
G. Motie run out                                              0
Extras (b10, lb4, w4)                                   18
TOTAL (all out, 41 overs)                           155
Fall of wickets: 1-12, 2-13, 3-70, 4-78, 5-80, 6-96, 7-101, 8-104, 9-133, 10-137.
Bowling: Sooklall 9-2-35-2, Davis 9-4-15-1, Mohammed 9-1-28-0, Hosein 5-1-23-0, E. Lett 1-0-5-0, Ali 8-0-35-5.
Result: T&T won by 26 runs.
Points: T&T 4, Guyana 0.
Toss: T&T.
Around the Web