Table Tennis umpires in Guyana will benefit from a three-day umpire's clinic which started yesterday and is being conducted by Canada's International Umpire/Referee, Delano Lai Fatt at the Cliff Anderson Sports Hall (CASH).
Lai Fatt, who was born in Jamaica but resides in Canada, is a also an International Table Tennis Federation (ITTF) Umpire Course Conductor and Umpire Evaluator along with being an ITTF Para Table Tennis (PTT) Rules Coordinator.
This is Lai Fatt's first visit to the 'Land of Many Waters' and will see him conducting the umpires course.
He will also evaluate the umpires for the opportunity to become certified umpires on the brink of the Caribbean Table Tennis Championships which is expected to start this weekend at the CASH.
The programme is expected to broaden the ability of the umpires to detect different technical faults during the game.
An examination will also be held at the end of the three days to certify the umpires taking part in the course.
According to Lai Fatt, there are only 20 persons like him in the world that do these types of courses and try to impart as much as possible into the students.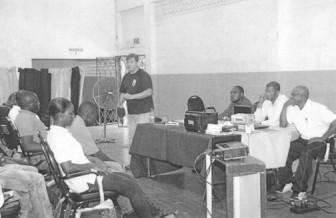 "Well they all come in with a certain level of knowledge which is good but I want them to have an open mind so that they can add to their knowledge.
"I will also teach them small things that occur that go unnoticed in the public's eyes so as to keep the game to a certain standard and once these things are applied at the table they will be able to work effectively and after the course I want them to be effective," Lai Fatt stated.
When asked by Stabroek Sport what outcome he expects from the course, Lai Fatt stated, "I expect two things which really rely on each other, one, I expect that at the end of the course they can be effective umpires and my second expectation is for them to become certified umpires after the exam.
"Everybody came in with different educational backgrounds and I can't make them pass the exam but I hope that they will," Lai Fatt concluded.
Meanwhile with respect to the Caribbean Table Tennis Championships which will start this weekend, Lai Fatt indicated that he will stay on for the championships and work in the capacity of a match referee for the tournament.
Around the Web