The Milo Under-23 Football tournament was launched yesterday with president of the Fruta Conquerors Football Club Marlan Cole saying that the mobilisation of the sport is to prevent the youths from falling prey to social vices.
Cole, speaking in the boardroom of the Beepat building on Regent Street, said that football was currently faced with many challenges and due to these the sport has been at a virtual standstill in the city. This prompted the Fruta Conquerors executive, organisers of the tournament, to approach the sponsors.
The tournament was initially an event organized by the Georgetown Football Association (GFA) but an ongoing impasse between that organization and the Guyana Football Federation (GFF) resulted in the executive committee of the Fruta Conquerors Football Club picking up the slack.
"We have a lot of challenges in football in Georgetown and while these challenges present themselves we see that no competitive football is being played. So we thought it best to help out the sport by approaching Beepat's to sponsor the tournament," said Cole.
"We want to make sure we don't lose our young athletes to the ills of society such as drugs, crime and school dropout so we hope we get the entire support of the football fraternity throughout this tournament".
He concluded, "Mostly we would like the support of the federation (GFF, the local governing body for football) because the decision made by them can affect the sport directly and indirectly."
The tournament will see 16 teams from Georgetown being divided into four groups and competition will be played on a round-robin basis before the knockout segment.
The teams include: Group A – Fruta Conquerors, GDF, Flamingo, University of Guyana; Group B – Sunburst Camptown, Santos, Riddim Squad, Black Pearl; Group C – Pele, Police, Beacons, Houston Stars; Group D – Western Tigers, Alpha United, Charlestown, GFC.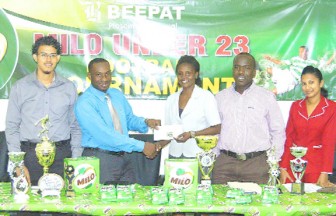 Clubs will be competing for the top prize of $100,000 while the second, third and fourth place finishers will receive $50,000, $30,000 and $20,000 respectively. Other prizes for the Best Goalkeeper, Highest Goal Scorer, Most Valuable Player (MVP) and Most Disciplined team are also up for grabs.
Also, each team participating in the tournament will receive five official Milo footballs.
The launching was also attended by Nestle's Brand Manager Selwyn Bobb, Secretary of the club Lavern Fraser-Thomas, Marketing Representative of Beepat's, Nirvani Bhairopersad, and Leon Fitzpatrick. Bobb, speaking briefly, said that Milo was honoured to sponsor the tournament again. "Milo is no stranger to sports because it was a drink developed with young athletes in mind as a sport supplement.
"When we hand out sponsorship we like to make it of value so we gladly sponsor these grassroots tournaments which help develop athletes" Bobb explained.He also thanked the club's executive for choosing Beepat to assist in the venture.
Around the Web