National champion Taffin Khan emerged victorious in the senior category of the Emancipation Anniversary Chess Tournament which ended on Sunday at Kei-Shar's Sport Club.
Khan added another win and two draws to follow up on his opening wins, ending with six points.
Maria Thomas with five points was second with Shiv Nandalall, third with five points and Learie Webster, fourth with four points.
Resuming last Saturday, Khan won his match against Nandalall to gain another point, before drawing against Thomas and the tournament's junior champion Anthony Drayton on Sunday in the sixth and seventh rounds respectfully. Thomas, the sole female in the tournament, gained another point with her win against David Khan in the fifth round and Saeed Ali in the seventh. Apart from his loss to Khan on Saturday, Nandalall redeemed himself with respective wins against David Khan and Webster on Sunday.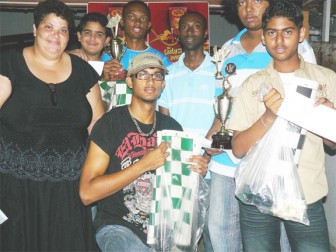 In the junior category, Drayton won with four and a half points, ahead of Rashad Hussain, who ended with the same number of points. Ali copped third place with three and a half points while Roberto Neto placed fourth with three and a half points.
At the end of the tournament, the winners were presented with prizes. President of the Federation, Nandalall said that for this tournament the prizes were mainly given to junior players. In the junior category the top four players each earned a tournament-sized chess set and cash prizes. In addition to these presents, Drayton also won a trophy.
The tournament was sponsored by Topco Juices.
Full results for the tournament are as follows:
Seniors
Taffin Khan (1802)           6 points
Maria Thomas                   5 points
Shiv Nandalall (1715)      5 points
Leary Webster                  4 points
David Khan (1386)          3 points
Alex Joseph
 Juniors
Anthony Drayton             4.5 points
Rashad Hussain               4.5 points
Saeed Ali                         3.5 points
Roberto Neto                   3.5 points
Tevon Blaize                   3 points
Joshua Pedro                   3 points
Carlos Patterson              2.5 points
Joshua Chan                    0
Around the Web