ZURICH, Switzerland,  CMC – Senior CONCACAF vice-president, Lisle Austin has been slapped with a year-long ban by football's world governing body FIFA, in the latest fallout from the scandal that has wrecked Caribbean football.
The ban was imposed on Austin by the disciplinary committee after the Barbadian challenged his overthrow as acting CONCACAF president in a Bahamas law court back in June.
Austin had been installed as acting president of the of the governing body for football in North, Central American and Caribbean area following the suspension of former football magnate Jack Warner amidst corruption allegations.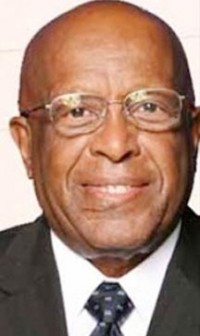 "The committee decided to ban Lisle Austin from taking part in any football-related activity (administrative, sports or any other) for a period of one year for lodging a claim related to football matters in front of the ordinary courts in the Bahamas, constituting a breach of art. 64 par. 2 of the FIFA Statutes," FIFA announced yesterday following a meeting of the Disciplinary Committee on Tuesday.
"Lisle Austin had been provisionally suspended by the chairman of the Disciplinary Committee on 4 July 2011, the date from which the one-year suspension will start to be counted."  FIFA also added that the ban would remain in place for as long as the matter remained before the courts.
"The Disciplinary Committee also decided that should Lisle Austin not withdraw the claim lodged in front of the ordinary courts in the Bahamas definitively and irrevocably, he will remain banned from taking part in any kind of football-related activity at national and international level in accordance with art. 22 of the FIFA Disciplinary Code for as long as the legal proceedings in ordinary courts are pursued," the statement continued.  "However, the ban of one year is to be served independently from such possible withdrawal."
Austin's short period in charge of CONCACAF was marked by acrimony as he attempted to fire controversial general secretary Chuck Blazer, and also found himself embroiled in a fight with the executive committee in order to stay in charge.
The executive committee eventually toppled Austin for an apparent breach of FIFA statues but Austin hit back accusing forces of "waging a war" against him.
The latest action by FIFA comes on the heels of a life ban imposed on Qatari Mohamed bin Hamam last month, after the former Asian Football chief was found guilty of corruption.
He had been accused, along with Warner, of offering US$40 000 bribes to Caribbean Football Union members at a May meeting in Trinidad, in exchange for votes at the June 1 FIFA presidential election in which he was a candidate.
Warner subsequently resigned as a FIFA vice-president, and CONCACAF and CFU president, and had all charged against him dropped
Around the Web