A team of eight swimmers is scheduled to represent Guyana at the Goodwill Games Swim Meet scheduled for Trinidad and Tobago from tomorrow to August.
Seven of the swimmers are set to depart from Guyana this morning.
Goodwill Games multiple gold medalist Britany van Lange, Goodwill Games silver medalist Athena Gaskin, Noelle Smith and Soroya Simmons along with Onika George, young Accalia Khan, Sheik Amir and Ronaldo Rodrigues are all expected to represent Guyana at the regional meet.
Seven of the swimmers, excluding Smith, who is currently studying in Trinidad, are expected to travel to the twin-island republic alongside three officials; coach Sean Baksh, manager Jean La Rose and chaperone Kamla van Lange.
Baksh said having worked with the swimmers over the past few weeks he believes the swimmers are well prepared for the venture.
"I've been working with them and they are ready, they've been tapering well, and they are very disciplined," Baksh said.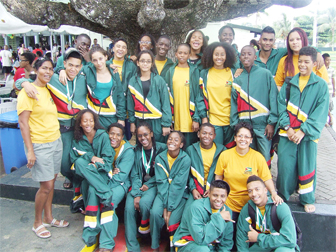 All eight of the swimmers are entering the competition having qualified for at least one event, but, according to Baksh, the swimmers will be allowed to participate in events outside of the events that they qualified for, following a trend that began last year.
Last year the Guyana Amateur Swimming Association sent a team of some 21 swimmers to the event when it was held in Suriname, with only nine of the swimmers having qualified to participate in events at the games. The team returned home with 12 medals and a fourth place position.
This year 14 swimmers have qualified for events at the games, a testament to the developing status of the swimmers. However, only 13 of the swimmers were eligible to participate given that Guyana's Jessica Stephenson could not participate at the meet because she medaled at the CARIFTA Swimming Championships. Being a developmental meet, swimmers who perform well at the championships are exempt from participating in the Goodwill Games.
Van Lange, who has already qualified to participate in 10 events, will spearhead the team in the absence of Stephenson. The girls 13 – 14 swimmer has Goodwill "A" times in – events including the 100m and 200m freestyle, the 100m backstroke and butterfly events as well as the 200m individual medley; she also has Goodwill "B" qualifying time in the 50m freestyle, backstroke, breaststroke and butterfly events, and the 100m breaststroke.
Last year van Lange was Guyana's most accomplished swimmer at the event followed by  Smith who has already qualified for the 50m and 100m freestyle, 50m and 100m butterfly and the 50m breaststroke and 200m individual medley events in the girls 15 – 17 category. Smith will be looking to defend her title as her age group champion after winning the title in last year's competition.
Around the Web