Guyana Under-19 clinched a morale boosting nine-wicket victory over the Leeward Island at the Everest Cricket Club ground (ECC), in the second round of the limited overs version of the West Indies Cricket Board's Under 19 tournament yesterday.
This was Guyana first victory after 22 days and it was over an opponent they had beaten in the opening round of the three-day format at Providence on July 20th.
The day commenced with home side skipper Ronsford Beaton winning the toss and deciding to bowl first on the sun-drenched, placid Everest Deck. Guyana coach Hubert Evans rung the changes again recalling middle-order batsman Dominic Rikki and Linden Austin in place of opener Kandasammy Surujnarine and left-arm spinner Gudakesh Motie-Kanhai while Leeward Coach Winston Benjamin made one change; dropping medium pacer Chavil Archibald and recalling Shaquille Martina.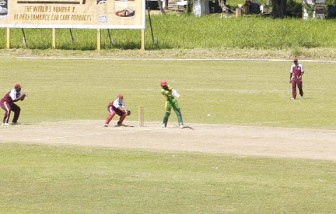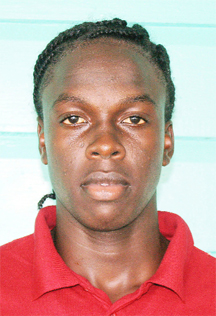 Opening proceedings went firmly in Guyana's favour as West Indies Under-19 pacer Beaton, bowling arguably his best and quickest spell of the entire competition, sent back Wasim Mentos caught at third man in the first over and number three batsman Duane Webbe LBW to a pacy in-swinging delivery.
He also got rid of Shaquille Martina leg-before for a duck on the first delivery after the mandatory 10 power-play overs.
The Leewards slipped precariously to 29 for 3 in the in the 11th over as another miserable batting capitulation, which has been the hallmark of Leewards in this tournament threatened.
That proved to be case as they lost their last 7 wickets for 92 runs in 30.4 overs to be rolled over for 121 in 41.5 overs. Only a 43-run, fifth-wicket partnership between Akeme Saunders (36) and Nino Henry (26) showed any semblance of fight in another weak batting effort from the Islanders.
Wickets were shared between three bowlers; Beaton starred with 4-28, Adams got 3-29 and La Fleur 2-26.
Guyana began their reply with a new-makeshift opening partnership as the team management elevated middle-order batsmen Jamal La Fluer and Dominic Rikki in an effort to try and solve this problematic area, whch has been a thorn in the home team's side all tournament.
The new pair progressed steadily to 33/0 when lunch was taken at 1:00 pm, with La Fleur on 15 and Rikki on 16.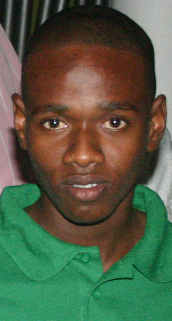 After the break the pair continued to motor along as they brought up the first 50-run opening start in either competition format this year for Guyana in the 11th over when Rikki swept Leeward skipper and off-spinner Rahkeem Cornwall to the square-leg boundary.
But next delivery Rikki got too ambitions, as he attempted a hit Cornwall over mid-off for another boundary, and was stumped for 26 to leave Guyana 51/1.
All-rounder Clinton Pestano was then promoted to number three to do the pinch-hitting role. He did his task efficiently in an unbeaten 31 (46 balls, 4×4).
His partnership with La Fleur who completed a good all-round with a unbeaten 53 (54 balls, 5×4) was 72, as they took Guyana to victory, when La Fleur lofted off-spinner Daniel Doram to mid-wicket boundary to bring up his half-century and end the game.
The competition takes a break today and continues tomorrow when Guyana takes on Jamaica at Demerara Cricket Club, Barbados versus the Leewards at Everest Cricket Club and defending champions Trinidad and Tobago versus the Windward Islands.
Scoreboard
LEEWARD ISLANDS
D Webbe lbw b Beaton                                 10
W Mintos c Austin b Beaton                        2
A Saunders c Hemraj b Adams                36
S Martina lbw b Beaton                                  0
*R Cornwall c wkp Boodie b Adams         5
N Henry c Hemraj b Adams                      26
L Audain lbw b Khan                                      7
T Hanley b La Fleur                                         5
D Doram not out                                             14
+D Parris b Beaton                                          4
C Archibald c Pestano b La Fleur              1
Extras (lb5, w6)                                              11
TOTAL (all out, 41.5 overs)                     121
Fall of wickets: 1-3, 2-24, 3-29, 4-39, 5-82, 6-89, 7-100, 8-100, 9-115, 10-121.
Bowling: Beaton 8-1-28-4, Pestano 6-1-15-0, A Adams 10-0-29-3, Khan 10-2-18-1, La Fleur 7.5-1-26-2.
GUYANA
J La Fleur not out                                           53
D Rikhi st Parris b Cornwall                        26
C Pestano not out                                            31
Extras (b5, lb1, w7)                                        13
TOTAL (1 wkt, 23.2 overs)                       123
Fall of wickets: 1-51.
Did not bat: C Hemraj, *R Beaton, A Adams, R Adams, +K Boodie, A Khan, K Crosse, L Austin.
Bowling: Henry 3-1-15-0, Cornwall 10-0-41-1, Doram 7.2-1-31-0, Hanley 2-0-15-0, Martina 1-0-15-0.
Result: Guyana won by nine wickets.
Points: Guyana 5, Leewards 0.
Umpires: P Gustard, S Crawford.
Around the Web