Nine of Guyana's top junior players are set to depart Guyana tomorrow for St Vincent and the Grenadines where they are scheduled to participate in the island's International Tennis Federation (ITF) junior tennis tournament to be held from August 15 – 20th.
Nicola Ramdyhan, Aretta Dey, Annesa Gradison, Aruna Ramrattan, Shawna Gentle, Krystal Sukra,  Daniel Lopes, Judah Stephaney, and Gavin Lewis have all been selected by the Guyana Tennis Association (GTA) to participate in the tournament. The team will be travelling alongside Coach Shelly Daly-Ramdyhan tomorrow morning.
At the tournament, Ramdyhan, Dey and newcomer Grandison, will participate in the girls under 14 singles while Dey and Ramdyhan are set to pair up to participate in the doubles competition. Lopes and Stephaney will compete in the boys under 14 category, in both singles and doubles.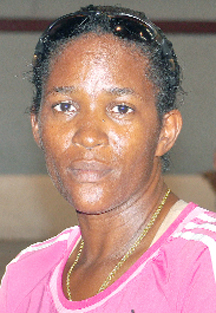 Ramrattan, Gentle and Sukra will be featured in the girls under 18 category while Lewis will be Guyana's only competitor in the boys under 18 category.
Ramrattan and Gentle are expected to partner up for the doubles while Sukra will be partnered with a yet to be determined player from another country.
With the exception of Grandison and Dey, all of the players are repeat features at the tournament having first attended the tournament when it was held last year. This, though, will be Grandison's first exposure to an internationally rated competition while Lewis will also experience a first in being placed in the under 18 category.
Last year, Lewis took part in the under 14 category, when the GTA sent a nine-player team to the tournament.
Lewis, as well as the five players in the under 14 category, will first be expected to participate in the qualifying round of the tournament on Saturday and Sunday before being eligible to be a part of the main draw of their respective categories. However, this will not apply for the three under 18 girls who have already made it into the main draw, being ranked in the top 20 players in the category. Coach, Ramdyhan explained, that given their participation in ITF (International Tennis Federa-tion) rated tournaments, Ramrattan and Gentle would have accrued some ITF points, which would have somewhat assisted in propelling them past the qualifying round and into the main draw.
The ITF level two coach, said that while the players did get to put in a lot of practice, she believes more could have been done for the players to get prepared. She noted that a junior tournament was expected to be held before the players left but said that tournament is not expected to be held until later on.
"There was supposed to be a tournament before they left but that's not possible anymore, that'll have to be after they come back. A lot of the kids still have some fine tuning to do, and for me, I was looking forward to them being able to participate in the tournament before they left. But, nevertheless, I think that they are mentally ready (for the tournament). We did practice a lot, we've been practicing everyday. And we did some match practice and they were able to play some matches with some of the senior players," Ramdyhan added.
Speaking with this publication yesterday, Grandison said she was excited about having the chance to get her first exposure at an international competition. The 13-year-old said she felt that she was well prepared for the tournament and was looking forward to putting her best foot forward.
The team is expected to return from St Vincent on August 20 after which Nicola and Stephney, along with Darius Ali, are expected to travel to Suriname on August 28 to participate in a 13 and Under Development Tournament that will run from August 29 to September 4.
Around the Web