BRIDGETOWN, Barbados, CMC – A brutal 135 from Deandra Dottin powered hosts Barbados to a 267-run victory over St. Lucia in the WICB Regional Women's One-day Championship yesterday.
Dottin struck 14 fours and four sixes from 105 balls, as Barbados posted a formidable 325 for eight from their allocation of 50 overs in the third round match at Kensington Oval.
Kycia Knight supported with 71 and Charlene Taitt scored 35 to beef up the home team's total, which has been the highest posted for the competition.
Roylin Cooper was the pick of the St. Lucia bowlers with four wickets for 67 runs.
Shaquana Quintyne took four for 10 and Keila Elliott three for six, as the Barbadians dismissed St. Lucia for 58 in 31.2 overs.
The hosts will face Jamaica at the same venue on Friday, at the same time that reigning champions Trinidad & Tobago meet the St. Lucians at Weymouth-A.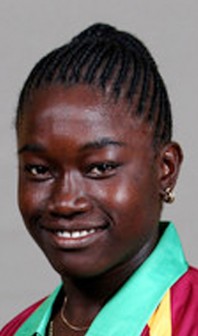 In another match on Thursday, St. Vincent & the Grenadines got an early day, when they crushed Dominica by eight wickets – the match finishing half-hour before the scheduled interval between innings – at Weymouth-A.
West Indies Women's all-rounder Cordel Jack collected five for two, as the Dominicans were bowled out for a paltry 34 in 27.1 overs, after they chose to bat.
SVG needed just 5.5 overs to reach their target.
Elsewhere, two-time defending champions T&T defeated Grenada by 131 runs at LIME Wildey.
West Indies Women Merissa Aguilleira led the way with 33 and fellow West Indies Women's player Britney Cooper added 30 to lead T&T to 203 for eight off 50 overs.
Lee-Ann Kirby then snared three scalps, as Grenada were bowled out for 72 in 45.4 overs.
And at Friendship, West Indies Women's all-rounder Shanel Daley turned in another notable all-round performance to lead Jamaica to a six-wicket victory over Guyana.
Daley grabbed three for 15, as Guyana were dismissed for 100 in 49.5 overs.
She then stroked 40 not out, anchoring the Jamaicans to 101 for four to claim a victory with 115 balls remaining.
Around the Web