Upbeat over their commendable performance at the recently concluded Pan American Challenge in Brazil, members of the Guyana's female hockey believe that the availability of an artificial turf is key to their continued improvement.
After disappointing returns in recent tournaments, Guyana's female hockey team defeated Paraguay and Bermuda 2-1 and 6-0 respectively while drawing with Brazil at 1-1. The team suffered two losses; both against Uruguay. Guyana lost to Uruguay 2-0 in the group stage and 6-0 in the final.
"We are very happy and still ecstatic about qualifying and everybody knows that they have to improve and we can't do that without an artificial turf, which we need to compete against top teams," Ulrica Sutherland, vice-captain of the team stated yesterday at a press conference held the Guyana Olympic Association's (GOA) head office yesterday.
President of the Guyana Hockey Board, Philip Fernandes, who was also a part of the coaching staff for the team, said that the team performed really well especially after their last few years of play. He also defended Guyana's 6-0 loss to Uruguay in the final.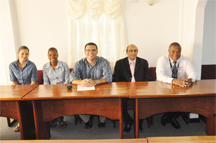 "Well in the group stages we went in with a defensive mindset to limit them from scoring because we knew how good of a team they were and the 2-0 loss to me was creditable. But in the final, since we already qualified for the Cup, I think it was wise for the girls to see where they really are at by playing an all out attacking game because I wanted them to score and although they didn't I thought it was wise for them to know the level they are at so they can be able to assess themselves," Fernandes stated.
Fernandes also took the opportunity  to thank the Guyana Olympic Association (GOA) for assisting with the extension of their solidarity fund along with the other sponsors, while lamenting the need for an artificial turf of their own.
Stabroek Sport also questioned goal keeper Alysa Xavier on the subject of adapting to the artificial surfaces as opposed to Guyana's playground grass.
"It's extremely difficult, playing on grass is more of an upright play because of the bumps and on the turf there are no bumps so the game is faster and you have to play a more flat game especially because the ball travels really fast," the goal keeper stated.
Meanwhile President of the GOA, KA Juman-Yassin, who was also in attendance, applauded the team for their efforts while stating that the GOA will do what it can to help with the development of Hockey.
Juman-Yassin said that after the elections he hopes to see the sports policy and a better sports commission being implemented.
Around the Web