JOHNS CREEK, Georgia,  (Reuters) – Steve Stricker  equalled the lowest round in a major to take control of the PGA  Championship on Thursday while fellow American Tiger Woods  spectacularly self-destructed after making a red-hot start.
The 44-year-old Stricker, who has yet to win one of golf's  grand slam events, fired a flawless seven-under-par 63 on a  sweltering day at Atlanta Athletic Club to grab an early  two-shot lead.
Jerry Kelly was next best after carding a six-birdie 65,  ahead of fellow American Scott Verplank (67).
Former world number one Woods, however, posted his worst  ever opening round in a major as he imploded on the way to a 77  after making three birdies in his first five holes.
"I'm not down, I'm really angry right now so there's a lot  of work I could use," Woods told reporters after recording  three double-bogeys and ending up in bunkers 12 times.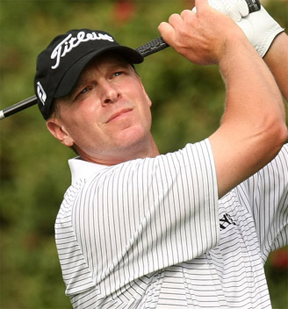 Stricker, long regarded as one of the best putters in the  game, birdied five of his first nine holes and picked up two  more shots after the turn to become the 23rd player to shoot a  63 in a major.He came close to an eighth birdie of the day at the  par-four ninth, his final hole, and a first-ever 62 in a major  after hitting a superb approach to 12 feet.
However, he pushed his approach putt past the right edge of  the cup and had to settle for a two-putt par.
"I really didn't know what to expect today and maybe that  was a good thing," world number five Stricker said.
"I had no expectations, birdieing the first three and  hitting it in there on the next two…it just kind of settled  me down and got me going on the right foot.
"You have to take one day at a time here in every  tournament. This is just a good start. One round under my belt,  take tomorrow as it comes and go from there."

WOODS WATCH 
Most eyes, however, were on world number 30 Woods who was  competing in only his second tournament since returning from  three months on the sidelines due to leg injuries.A glorious sun-baked morning began well for him as he  birdied his opening hole after teeing off at the par-four  10th.
He struck a superb approach to 15 feet and calmly rolled in  the right-to-left breaking putt as several fans shouted out:  "Go in, go in."
Woods, wearing a bright pink shirt and black trousers, gave  a restrained right fist pump in celebration before another fan  yelled: "He's back."  The 35-year-old also birdied the par-five 12th, where he  got up and down from a greenside bunker, and the par-four 14th,  after his second shot ended up just four feet from the cup.
However, as his swing began to switch to back to old  habits, he dumped his tee shot into water at the difficult  par-three 15th on the way to a double-bogey.
After taking a penalty drop on the 260-yard hole, the  longest par-three ever at the PGA Championship, he hit his  third shot to 15 feet before two-putting. Woods bogeyed the 16th and double-bogeyed the 18th, where  he found the bunker off the tee and also with his third shot to  reach the turn in two-over.
Further bogeys followed at the first, second and fourth  before he found sand off the tee at the par-four sixth and  water with his second shot on the way to another double.
The misery for Woods, who is hunting his first tournament  victory in nearly two years, was completed with a bogey on his  final hole.
"I was three under early, and I said, 'You know what, every  shot I hit up to that point were all mechanical thoughts'.
"I put the club in a certain position, and I was doing that  and I said, 'You know what, I'm feeling good. Let's just let it  go'. And it cost me the whole round," Woods said.
Around the Web