'`It's a privilege to play in tournament'
-says Chris Gayle
One of the most devastating Twenty20 batsmen in the World Chris Gayle of Jamaica and West Indies fame says it is a privilege to be in Guyana to play in the Jamzone Twenty/20 Masters Cup which began last night with the semi-final round.
"Well, I'm privileged to be here. I know how supportive Guyana has been to West Indies cricket and my own personal dilemma but I'm not worried about any particular team.
He added:"I don't know what to expect but I will definitely play positive cricket, I haven't played cricket in a while so I'm a bit rusty," the Jamaican who will play for Hits and Jams All Stars stated.
The tournament is set to cause a major impact on cricket fans in Guyana and the Caribbean.
The tournament will feature four teams namely the Hits and Jams All Stars, Gizmos and Gadgets Georgetown Pitbulls, New Line Cavaliers and Universal DVD Berbice Titans. The teams will also be allowed four international players outside of Guyana on their respective squad.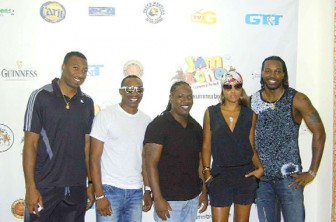 However, Berbice Titians will be the only team to carry an all out Guyanese squad while International players will feature on the other three squads.
The tournament was launched yesterday with a press conference chaired by sports reporter Sean Devers.
Also present were Line and Length radio announcer Barry Wilkinson, American rapper Eve, Gayle, Dwayne Bravo, Leon Johnson and Keiron Pollard and Hits and Jams promoter Kerwin Bollers.
"It's great to be here, to have an opportunity to come and perform at an event like this…so I'm just looking to make a positive impact in the spin of thing," Pollard stated of his intentions said Trinidad Pollard's one of the most sought after Twenty20 cricketers in the World while Bravo added: "It's a great tournament and it has a lot of guys that don't like to lose so I will definitely try to play at my best and I am looking forward to it," the Trinidadian stated.
Guyana's Johnson described the tournament as one of the biggest on the local calendar.
"I think it's the biggest tournament we have had here locally so I'm just looking forward to being apart of it," Johnson concluded.
Gayle, who is still at odds with the West Indies Cricket Board provided what can be dubbed as an update on the situation after CARICOM stated that it will intervene in the matter.
"Well both sides are currently communicating it has been two weeks now…so I will just have to wait and see what happens before I can say anything more on the matter," Gayle stated.
Around the Web