BIRMINGHAM, England, (Reuters) – Alastair Cook hit a career best 294 as England amassed their third-highest total of 710 for seven declared against a weary-looking India on day three of the third test yesterday.  
India's plight then became even more desperate when opener Virender Sehwag was out to the second ball of his team's second innings to seal a 'king pair'. The hapless Indians reached 35  for one by the close and trailed England by 451 runs as Gautam Gambhir was 14 not out and Rahul Dravid had 18.
  
England are on course for the victory that would give them an unassailable 3-0 lead in the four-match series and allow them  to climb to the top of the world rankings at India's expense.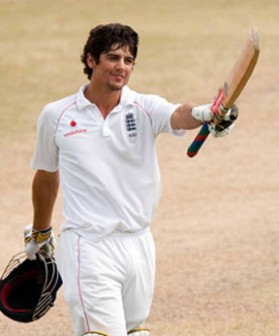 "We've put ourselves in a very good position in this game," Cook told reporters. "We are strong favourites but we know that doesn't make you win, unfortunately. It would be great if it did  but we have got a lot of hard work to do tomorrow.  
 
"The wicket is still playing well. You could see that from  how people got in so it can't be that bad. If we keep doing our  basics well I'm sure we will create nine opportunities in two  days."   
Sehwag, playing his first test in eight months after  recovering from shoulder surgery, was out off his first ball for  the second time in the match when he played a loose shot at a  James Anderson delivery and edged to Andrew Strauss at first  slip.   
The wicket on the second ball of India's reply summed up  another dreadful day for them, as they seek to bat for most of  the last two days in order to save the match.   
"I am very positive we can do it," Indian leg spinner Amit  Mishra said. "We have done it before as well. We have good  batters and it's a good pitch to bat. I don't think we would  lose this test. The team spirit is very good and positive."   
Left-handed opener Cook batted for more than 12 hours and  bettered his previous test-best 235 not out against Australia in  Brisbane last year.   
Eoin Morgan made 104 and Tim Bresnan was unbeaten on 53   when Strauss declared the innings following Cook's dismissal.  
 
It was Cook's second double century in tests and this latest  effort was the second-longest test innings by an England  batsman, surpassing Ken Barrington's 256 in 683 minutes. Only  Len Hutton has batted longer, during his English record score of  364.   
Batting conditions were not all that favourable with high  humidity and dark clouds overhead. India bowled their spinners  for most of the afternoon rather than tire their three pace  bowlers needlessly in a seemingly hopeless situation as the day  drifted slowly.  
 
The teams, who lost time to rain in the morning session,  were also interrupted for 16 minutes in the afternoon by bad  light. The new permanent floodlights at Edgbaston failed to work  after the umpires had requested their usage.   
The 25,000 capacity crowd booed as the players left the  field while the lights flickered but failed to switch on  following an earlier power cut.  
It was only temporary respite for India from Cook's  run-feast, though, as he added 222 with Morgan, who was dropped  twice on Thursday. Morgan was finally caught at cover off  spinner Suresh Raina.  
 
It was England's eighth century stand in the series. India  have had just the one century partnership, emphasising the gulf  between the teams.  
"When I do get a hundred, now I manage to get bigger ones.  As a side, we've got six double-hundreds since 2010 – which is a  tribute to the way we bat," Cook added.   
Cook was circumspect for most of the day, managing just  three boundaries in the first two sessions in an innings that  became more turgid as the day went on.   
Ravi Bopara raised the team's 600 with a slashed cut for  four off a thick edge from Mishra but he was trapped lbw by the  same bowler for seven while pushing down the wrong line.  
 
Matt Prior was the third man out on Friday, top-edging a  sweep off Mishra to Sachin Tendulkar at fine leg for five.  
Bresnan raised the team's 700 and his half-century with a  six off Ishant Sharma over mid-on, before Cook flat-batted a  square drive to Raina at a deep cover point off Sharma to fall  just six runs short of a triple century.
Scoreboard
India first innings 224 (MS Dhoni 77; S. Broad 4-53, T.  Bresnan 4-62)   
England first innings (overnight 456-3)  
A. Strauss b Mishra                                            87  
A. Cook c Raina b Sharma                            294   
I. Bell b Kumar                                                    34    
K. Pietersen lbw b Kumar                                63   
E. Morgan c Sehwag b Raina                       104   
R. Bopara lbw b Mishra                                      7   
M. Prior c Tendulkar b Mishra                       5   
T. Bresnan not out                                            53   
Extras (lb-34, b-11, nb-15, w-3)                  63  
Total (seven wickets declared, 188.1 overs)                 710   
Fall of wickets: 1-186 2-252 3-374 4-596 5-605 6-613 7-710   
Did not bat: S. Broad, G. Swann, J. Anderson.   
Bowling: Praveen Kumar 40-13-98-2 (1w), Sreesanth 36-4-158-0  (4nb), Ishant Sharma 37.1-7-159-1 (2w), Mishra 43-2-150-3 (9nb),  Raina 28-1-83-1, Tendulkar 4-0-17-0    
    
India second innings   
G. Gambhir not out                                      14   
V. Sehwag c Strauss b Anderson              0   
R. Dravid not out                                         18   
Extras: (lb-1, w-2)                                         3   
Total: (for one wicket, 12 overs)        35
Fall of wickets: 1-3   
To bat: S. Tendulkar, VVS Laxman, S. Raina, MS Dhoni, A.  Mishra, P. Kumar, I. Sharma, S. Sreesanth   
Bowling (to date): Anderson 5-1-18-1, Broad 2-0-7-0 (2w),  Bresnan 3-0-4-0, Swann 1-0-4-0, Pietersen 1-0-1-0
Around the Web