-O'Brien lauds performances

Guyana's world-ranked squash player Nicolette Fernandes did a sizzling retake of the title as the Caribbean's leading lady in squash after defeating defending champion Karen Meakins on Wednesday to win the ladies singles final at the Caribbean Area Squash Association (CASA) Senior Championships.
And General Secretary of the Guyana Olympic Association Ivor O'Brien yesterday lauded the performances of Fernandes and  Richard Chin especially Fernandes.
O'Brien said he was heartened by the performances of the two Guyanese which he said maintained this country's rich tradition in the sport and said that Fernandes had shown herself worthy of the investment in her future which she has over the years been repaying with such performances for the land of her birth.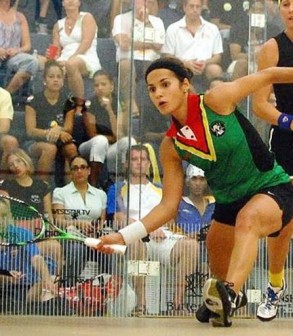 Fernandes defeated the Barbadian in a four set thriller to claim her third Caribbean title at the tournament while Guyana's Richard Chin, defending champion in the men's category, finished second after he was beaten in the final by Jamaica's Chris Binnie 11-2, 3-11, 7-11, 5-11.
Fernandes missed last year's tournament and as such was unable to defend the title she won in 2009 which allowed Meakins to grasp the opportunity with both hands.
This year, however, Fernandes returned to take out Meakins 11 – 5, 7 – 11, 11 -3, 11 – 6.
In the first set Fernandes led 3-2 a lead she eventually stretched to 10-4 before duly closing out the opening game.
Fernandes seemed to have the second set in the bag when she raced out to a 5-0 lead but Meakins fought back gamely by pressuring Fernandes to run out an 11-7 winner.
However, Fernandes was not going to allow that temporary lapse to re occur and after storming out to a 6-0 lead in the third set and a 6-1 lead in the fourth duly closed out the match.
Fernandes had entered the tournament as the number one seed and she quickly lived up to that billing after battling through matches against Meakins teammate Alex Jordan, Cayman Islands Samantha Henning and Marlene West respectively, all of whom she disposed of in straight sets.
Fernanades gained a bye in round one before encountering Jordan, whom she eliminated 11 – 7, 11 – 5, 11 – 3.
Against Hennings, Fernandes won 11 – 1, 11 – 2, 11 – 1, while she defeated West 11 – 9, 11 – 8, 11 – 4.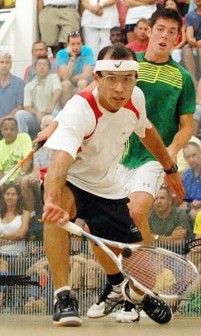 Chin too was off to a bright start roaring past Guyana's Ramon Chan-a-Sue and Trinidad's Kale Wilson in straight sets.
Barbados' Gavin Cumberbatch managed to win the first set against Chin before losing the next three sets ending the game 9-11 11-7 11-3 11-6.
Against Binnie, Chin's effort for claiming the ultimate title were thwarted. Chin managed to win the first set 11 – 2, but from then on it was Binnie who would lead the way winning the next three sets 11 – 3, 11-7, 11- 5 .  Chin, Fernandes and Chan-A-Sue are all a part of the Guyana team which also includes Alex Arjoon and Robert McDavid. In the main draw of the men's singles Arjoon lost 11-7 11-8 12-10 to Cumberbatch in third round, while McDavid lost 11-4 14-12 11-9 to Cayman Islands Gabe Rabess in round two.
The championships are set to conclude today.
Around the Web