The defeat sentenced the Jamaicans – this year's three-day champions – to their third consecutive defeat in the competition, a massive come down to earth for Coach Robert Samuels's side.
The day's proceedings began with the home side winning the toss and electing to field in mildly overcast early morning conditions on a DCC wicket that looked to be another typical slow deck that would sufficiently assist the spinners.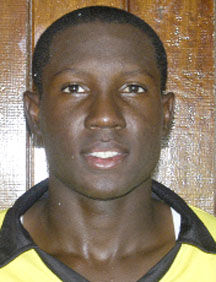 Guyana fielded the same team that defeated the  Leeward Islands on Wednesday, while Jamaica made one change from the side which lost to defending champions Trinidad and Tobago replacing Teswayne Creary with Ragni Francis.
The Jamaican openers started positively against the Guyana new-ball attack of Ronsford Beaton and Clinton Pestano moving steadily to 33/0 in the first overs.
The big-hitting, left-handed opener, John Campbell, was on 24 with two boundaries and a five and was looking to stamp his authority on the bowling.
But Campbell's dismissal, caught by Jamal La Fleur at wide mid-on without further addition to his total, trying to lift Pestano over the top, triggered a minor collapse.
The Jamaicans subsequently lost Oshane Walters run for eight to become Pestano's second wicket and Aldaine Thomas run out for two as they slipped to 58 for 3 in the 16th over.
The batting meltdown continued as the Jamaicans collapsed to 115 for 7 in the 41st over as the Guyana spin trio of Amir Khan, Anthony Adams and La Fleur weaved their webs around the batsmen.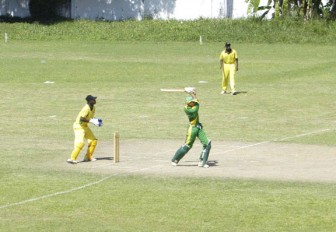 But, like the opening game when Trinidad recovered from 82-6 to 181-8, the Jamaican batsmen also staged a recovery thanks to Rovmon Powell's brilliant 66.
Powell's innings lasted 63 balls and included three fours and five sixes, with four of the sixes coming in the 49th over bowled by Beaton.
Powell shepherded the tail intelligently and accelerated in the final batting power-play overs (45-49), helping his side accumulate 59 runs in the period as the Jamaicans moved from 141/7 to 200/9.
Powell was eventually dismissed holding out to long off on the final ball of the innings.
The Jamaicans would have gone into the break fairly confident of defending this total against a Guyana batting side which has become synonymous with batting collapses in recent weeks.
However, the new opening pair of La Fleur and Dominic Rikki went about eradicating that recent trend as they got the home side off to superb start.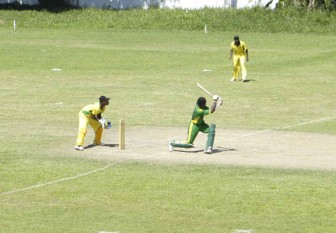 Guyana raced to 42/0 in the first five overs with La Fleur taking a liking to the short pitched bowling of the Jamaican new-ball pair of Marquino Mindley and James McDonald, raced to 33 with seven boundaries.
  The pair brought up their second half century partnership in three-days in the seventh over when Rikki smashed off-spinner Nelson over midwicket.
They later added the distinction of recording the first century partnership in either format in this year's competition in the 16th over.
At 127 without loss in the 21st over, Guyana were in cruise mode.
However, the reintroduction of the Mindley/ McDonald new-ball pair into the attack caused a dramatic fight back by the Jamaicans, as Guyana lost five wickets in 10 balls, without troubling the scores.
The Jamaicans were right back in the contest while Guyana's cancerous batting collapse was beginning to affect them again.
Guyana then lost the wickets of Kevon Boodie, Kwame Crosse (19) and skipper Beaton (7) to slip to 188/8.
With the match delicately poised, Jamaica captain Donovan Nelson brought back his new-pair of Mindley/McDonald for their third-spells with a clear effort to try a finish the game off. But Adams and Khan batted sensibly enough to take Guyana home with Adams smashing a delivery from Mindley to the cover boundary.
Guyana will be hoping to make it three wins in a row when they tackle table leaders Barbados at the Blairmount Community Centre today while Jamaica will tackle the Windward's Islands who defeated defending champions Trinidad yesterday at the Providence National Stadium.
Scoreboard
JAMAICA
J Campbell c La Fleur b Pestano                23
O Walters c R. Adams b Pestano                  8
+A Thomas run out                                          2
B Gayle c Hemraj b La Fleur                       24
*D Nelson c La Fleur b Khan                       18
R Powell c Khan b R. Adams                       66
R Francis c Beaton b Khan                            7
F Allen c Austin b Khan                                11
J McDonald c wkp Boodie b Beaton        17
T Edwards not out                                          11
Extras (b1, lb3, w9)                                       13
TOTAL (9 wkts, 50 overs)                      200
Fall of wickets: 1-33, 2-36, 3-41, 4-81, 5-84, 6-97, 7-115, 8-152, 9-200
Bowling: Beaton 9-0-76-1, Pestano 10-2-31-2, A. Adams 10-1-23-0, La Fleur 10-2-26-1, Khan 10-0-25-3, R. Adams 1-0-15-1.
GUYANA
J La Fleur b Midley                                          67
D Rikhi run out                                                   46
C Pestano lbw b Mc Donald                             0
C Hemraj b Midley                                              0
K Crosse b Gayle                                                19
L Austin lbw b McDonald                                 0
+K Boodie run out                                            19
R Adams not out                                               15
*R Beaton c wkp Thomas b Nelson             7
A Khan not out                                                    8
Extras (b5, lb3, w6, nb7)                              21
TOTAL (8 wkts, 35.5 overs)                  202
Fall of wickets: 1-127, 2-127, 3-127, 4-127, 5-127, 6-166, 7-177.
Bowling: Midley 5.5 1-41-2, Mc Donald 6-1-23-2, Edwards 3-0-24-0, Allen 5-1-32-0, Nelson 9-0-42-1, Campbell 6-0-25-0, Gayle 1-0-7-1.
Result: Guyana won by two wickets.
Toss: Guyana.
Umpires: Unavailable.
Around the Web