The Dominican Republic held off Trinidad and Tobago in the male team competition to become the 2011 Caribbean Table Tennis Champions at the Cliff Anderson Sports Hall last night.
The Dominican Republic was on their way to a dominant win when they went up 2-0 as Juan Vila and Emil Santos registered 3-0 and 3-2 wins against Trinidad's Micheal Nanton and Dexter St. Louis respectively at the start of the final.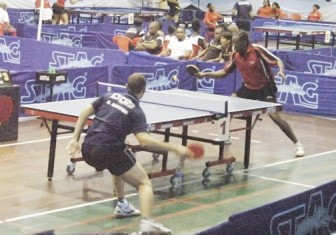 However, Trinidad were not willing victims of a lopsided final and gave the crowd and their team something to cheer about when Curtis Humphreys registered a 3-2 win against Samuel Malvez.
Momentum was now shifting to the Trinidadians as St. Louis returned to hand Vila a 3-0 defeat to bring Trinidad on level ground at 2-2.
Santos, who was clearly the Dominican Republic's best player then stamped his authority once again in the final as he outplayed Nanton 3-0 for the team win.
Earlier, the Guyana men's team went under 0-3 to  Trinidad 3-0 in the quarter final and 0-3 to The Dominican Republic in the final to end on a joint third place finish with Barbados while the Guyanese females downed their Bajan counterparts for the third place finish. (Treiston Joseph)
)
Around the Web