RALEIGH, North Carolina, (Reuters) – Former U.S. 100  metres champion Mike Rodgers's world championships eligibility  rests in the hands of a panel who will hear his doping case,  American officials said yesterday.   
Rodgers, the year's fourth fastest 100 metres runner, and  his agent are urgently trying to have his positive test for a  stimulant adjudicated by an arbitration panel before final  declarations are due for the Aug. 27-Sept. 4 world championships  in Daegu, South Korea.  
 
"USADA (the U.S. Anti-Doping Agency) is doing his  adjudication and they will determine his eligibility," USA Track  and Field spokeswoman Jill Geer said.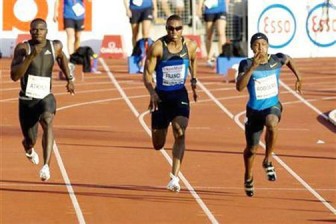 "If they say he is eligible, he will be eligible to compete.  We have not removed him from the (world championship) roster."   
Rodgers, the 2009 U.S. sprint champion, was selected to the  U.S. team on Wednesday in both the 100 and 4×100 relay pool. His agent Tony Campbell told Reuters on Saturday he had  tested positive for the stimulant last month in Italy after  mistakenly consuming an energy drink that contained the  unidentified banned substance.  
 
Penalties for a stimulant positive generally range from a  public warning to suspension for several months.  
"Ultimately, an independent panel of judges following a full  legal process makes the final decision regarding the appropriate  sanction," USADA spokeswoman Annie Skinner said. The 26-year-old's second sample is scheduled to be tested on  Wednesday two days after nations have been requested to submit  their final world championships rosters. Declarations for specific events are not due until much  later.
International Association of Athletics Federations (IAAF)  competition officials were not immediately available to comment  on declaration dates.   
IAAF spokesman Nick Davies said the governing body would  await a U.S. decision before commenting on Rodgers's  eligibility.   
"As usual we need to know what our member does and then  either accept or contest their decision," he said.
Around the Web