BRIDGETOWN, Barbados,  CMC – Stafanie Taylor, as expected, played a pivotal role  and Jamaica became the new WICB Regional Women's One-day champions yesterday when they completed a 30-run victory over two-time defending champions Trinidad & Tobago.
Taylor hit the top score of 45, as the Jamaicans were dismissed for a modest 136 in 48.1 overs, after they were sent in to bat in the Grand Final at Kensington Oval.
The Jamaica captain then winkled out two wickets for 14 runs from six overs, as T&T's batting suffered an inexplicable meltdown and they were bowled out for 106 with 46 balls remaining.
Four of the T&T Women's batters were run out, including their captain and West Indies Women's captain Merissa Aguilleira.
West Indies Women's batter Britney Cooper led the way with 43 that contained two boundaries from 105 balls.
The victory gave the Jamaican women their first title in three years, and meant that teams from the island have now swept all of the major WICB regional titles this year, having won the men's regional first-class champions, as well as Under-15 and Under-19 boys' titles.
"I do not think saying how we feel about beating T&T, the side which has won the title for the last two years, can really describe the way our side feels right now," Taylor told the CMC Sports Wire.
"As I told the girls before the game, we could not play so hard in the last few days, then turn up for this match, and let all of that hard work go to waste."
She said: "They beat us in the preliminaries, but it was a close match. We always felt that if we got another chance against them we could win.
"We were confident that any score that we put on the board, we could defend, and it all worked out for us in this match."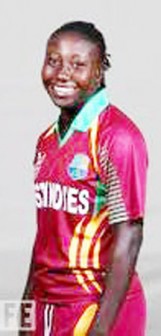 Taylor shared an opening stand of 75 with Natasha McLean over the first half of the innings before their batting started to wobble.
World-rated West Indies Women's all-rounder Taylor struck two fours from 62 balls before she became the first of three wickets for 25 runs from nine overs for Gaitri Seetahal, who also removed McLean for 34 to leave Jamaica 86 for two in the 31st over.
West Indies Women's all-rounder Shanel Daley was the only other batter to reach double figures, scoring 28, as the Jamaicans lost their last eight wickets for 17 runs in 57 balls.
In pursuit, T&T ran into early trouble on 17 for two, when they lost openers Amanda Samaroo and Alisa Mohammed for five and six respectively inside the first 10 overs.
Aguilleira joined Cooper, and put T&T on track with a stand of 44 for the third wicket before she failed to beat Jodi-Ann Cooper's throw, and was run out in the 23rd over.
T&T were 61 for three, and this triggered the collapse with eight wickets falling for 45 runs in 117 balls. Elsewhere, Kycia Knight hit the top score of 50 to anchor Barbados to a seven-wicket victory over St. Lucia in the Consolation Final at the Pine Basin, securing third place.
 In other matches, Guyana grabbed fifth-place with a 43-run triumph over St. Vincent & the Grenadines at Friendship, and a stunning all-round performance from West Indies player Afy Fletcher catapulted Grenada to a 214-run win over Dominica at the Desmond Haynes Oval.
Fletcher slammed 13 fours in 133 from 134 balls to lift Grenada to 293 for three off 50 overs, and then snared four for 18, as Dominica were dismissed for 79 in 27.5 overs.
Scoreboard
JAMAICA (maximum 50 overs)
*S. Taylor c Alisa Mohammed b Seetahal            45
N. McLean c King b Seetahal                                     34
S. Daley c Seetahal b Anisa Mohammed               28
C. Nation c Kirk b Anisa Mohammed                       9
J. Morgan c wkpr *Aguilleira b Seetahal                6
C. Henry c Kirby b Anisa Mohammed                     0
V. Watts c Cooper b Anisa Mohammed                  0
+T. Sanford b Walters                                                    1
K. Cohen lbw b Walters                                                 1
R. Outar not out                                                               2
P. Hanson run out                                                           2
Extras  (lb1, w7)                                                            8
TOTAL (all out, 48.1 overs)                                136
Fall of wickets: 1-75, 2-86, 3-119, 4-124, 5-124, 6-124, 7-131, 8-131, 9-133
Bowling: Alexander 5-0-15-0, Lord 4-0-17-0, Samaroo 1-0-4-0, Anisa Mohammed 10-3-20-4, Alisa Mohammed 10-1-29-0, Seetahal 9-1-25-3, Walters 9.1-2-25-2
TRINIDAD & TOBAGO (target: 137 off 50 overs)
A. Samaroo run out                                                  5
Alisa Mohammed c Henry b Cohen                   6
B. Cooper c Outar b Watts                                  43
*+M. Aguilleira run out                                      17
S. King run out                                                          0
S. Lord run out                                                         1
G. Seetahal lbw b Daley                                        0
Anisa Mohammed lbw b Daley                         4
K. Alexander c Watts b *Taylor                       0
L. Kirby lbw b *Taylor                                         1
F. Walters not out                                                11
Extras (lb1, w17)                                                 18
TOTAL (all out, 42.2 overs)                          106
Fall of wickets: 1-6, 2-17, 3-61, 4-63, 5-67, 6-68, 7-76, 8-80, 9-84
Bowling: Hanson 5-0-16-0, Cohen 5-2-12-1, Watts 6.2-0-24-1, Nation 10-2-16-0, Daley 10-2-23-2, *Taylor 6-1-14-2
Result: Jamaica won by 30 runs
Series: Jamaica win WICB Women's One-day championship
Player-of-the-Match: S. Taylor (Jamaica)
Umpire: V. Bullen, L. Reifer Jr
Matchreferee: M. Jones
Reserve umpire: A. Watson
Around the Web