Guyana's Desiree Lancaster turned it up a notch to win the female veteran title while the Dominican Republic proved their superiority yet again when they claimed both the male and female double titles as the 53rd edition of the Caribbean Table Tennis Championships continued yesterday at the Cliff Anderson Sports Hall.
After losing out to Trinidad and Tobago the day before in the mixed doubles final, the Dominicans reverted to their old winning ways.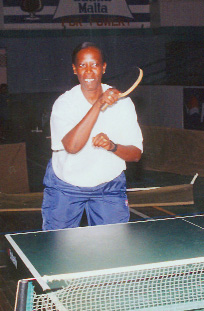 Reaching Trinidad for the fifth time in five finals both the male and female Dominican teams had dominant performances in their respective finals.
The Dominican female duo of Eva Brito and Johenny Valdez played with a lot of grit by not giving up easy points and downed the Trinidadian duo of Rheann Chung and Aleena Edwards 3-1 winning 11-9, 11-6, 8-11 and 11-7.
Speaking through their translator Stabroek Sport got an understanding of how the gold medalists felt.
"We feel very happy and satisfied with the victory, it wasn't very difficult but in the end we got what we wanted which is the gold medal," the versatile duo stated after the match.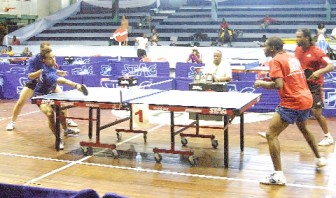 The males on the other hand, showcased a mix of power and skill as Juan Vila and Emille Santos wasted no time in finishing of the Trinidadian pair of Dexter St. Louis and Cutis Humphreys in straight sets winning 11-5, 11-7 and 11-9.
Meanwhile, Lancaster amassed six points to win the female veteran title after defeating all of her opponents in the category.
The competition was contested in a round-robin format which allowed the person with the most wins to be declared the overall champion.
Corinne Vaillant of Guadeloupe took silver with five points while Verna Edwards of Trinidad and Marguerite Felix of Barbados were third and fourth respectively finishing with four and three points respectively.
Meanwhile Colin France of Guyana lost to Raul Bettencourt of Cuba in the male version of the veteran competition.
Around the Web