Fifty-five Grade Six students graduated from the Rose Hall Town Youth and Sports Club (RHTY&SC)/Republic Bank training camp  Monday last.
The camp was  organised by the education committee of the Rose Hall Town Youth & Sports Club headed by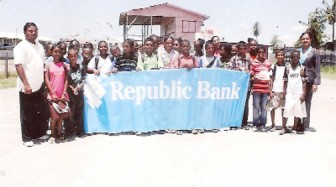 Assistant Secretary/CEO Nermala Sewdat.
The main objective of the camp was to prepare the students for entrance into secondary school in September.
Secretary/CEO of RHTY&SC Hilbert Foster urged the young students to always be disciplined and focused and to ensure that they develop a love for research and reading.
"You are Guyana's future and as such it was very important that you took advantage of every opportunity presented to you to develop your educational background as education is the key to success."
The club's secretary also advised the students to keep away from drugs, crime and to choose their friends carefully when they attend secondary school.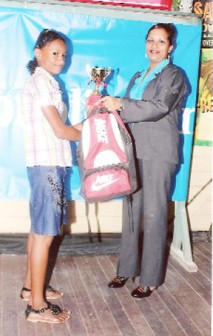 Foster also used the opportunity to encourage the students to join a sports organisation in their district as sports would provide them with safe avenues for their involvement.  Rohan Etwaru, teacher and co ordinator of the camp, stated that the students were taught in five subject areas – Maths, English, Social Studies, Integrated Science and Spanish.
The students were also involved in book reviews, lectures on social issues and sports.
According to Etwaru, the camp was a huge success and he congratulated both the RHTY&SC and Republic Bank for hosting it as all the students have shown remarkable improvements and are now well  prepared for secondary school in September.
Meanwhile Farah Bates was named the Best Overall Student while Lakeannand Govindasammy was the Most Disciplined Student.
Other awardees named were Best Maths Student – Rose Ann Hutson, Best English and Social Studies Student – Treviena Wiggins, Best Science Student – Nashand Rahaman, Best in Attendance and Punctuality – Veramootoo Senwasie and Most Improved Student – Blossom Earle.
Prizes shared out included educational and sports materials while each student received a special gift. The management of the club also expressed profound gratitude to the Rose Hall Town branch of Republic Bank and Food for the Poor Inc. for their assistance towards making the 2011 camp successful.
Around the Web