The under-21 category spelt some success for Guyana as national player Nigel Bryan along with his female counterpart Trenace Lowe picked up a bronze and silver medal respectively when the Caribbean Table Tennis Championships continued at the Cliff Anderson Sports Hall (CASH) last Tuesday.
Bryan who looked poised to reach the final was stopped in his quest for a gold medal by Jamaican Simon Tomlinson in the semi-final.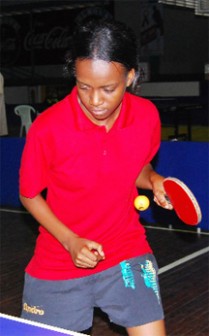 Tomlinson who was defeated in three straight sets by Samuel Galvez of the Dominican Republic in the final, countered Bryan's attacking game with his aggressive play along with a barrage of back spin shots that had Bryan at times overstretching for return serves.
The game eventually ended 3-2 at 4-11, 11-9, 5-11, 11-9 and 11-4 in favor of the Jamaican as Bryan captured the bronze medal.
Speaking with Bryan about the match, he indicated that he was satisfied with his performance and has definitely learnt from his mistakes.
"I think I tried my best and I fought to the end but I'm learning from my loss and next year I will make sure that I do better than I did this year," Bryan told Stabroek Sport.
Lowe on the other hand had a bit more success in the female version when she put down her Guyanese compatriot Michelle John in the semi-final three sets to two.
However, in the final Lowe looked unstoppable as she took the first two sets at 12-10 and 11-9 before Dominican Republic's Eva Brito stepped up her play to come from behind to win the final three sets of the match-up at 12-10, 11-5 and 11-5.
Meanwhile, everybody had a rest day yesterday to recover from the intense competition during the last four days.
Guyana will now turn to the male and female singles competition to try and salvage some amount of recognition in  the tournament while the Dominican Republic will look to continue their dominance in the championships.
Bryan, who is the national junior champion, said, "I expect to try my best, I want to make it out of my group stages…I will definitely be strong and fight to the end."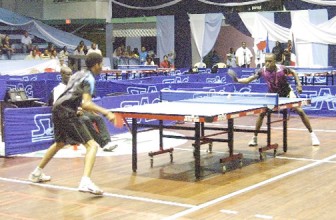 Paul Meusa who is pooled in the same group with Juan Vila of the Dominican Republic who is arguably one of the better players in the tournament stated that his main aim is to reach the quarterfinal stages of the competition.
"Well definitely I think my chances are pretty good, I'm starting a pretty decent group and I won't have to meet with a lot of high level players early so I have a chance to build in it.
"I'm in the group with Juan Vila and if things go well for me in that match well definitely it will set up things for later but my main aim is to reach the quarterfinal stages and then will be able to leave it all on the table," Meusa told Stabroek Sport.
Around the Web