ALBA Games bronze medallist Imran 'Magic' Khan will make his third appearance on the Pro Am Friday night fights boxing card at the Cliff Anderson Sports Hall slated for August 26.
Following an impressive campaign in Venezuela as the lone boxer to medal at the championships, Khan looks in tip top shape and said he's looking forward to the bout against Richard Williamson of the Pocket Rocket Gym in Berbice.
Khan said that the learning experience and the exposure he gained in Venezuela was a valuable one and he's very anxious to step into the ring to showcase his improved fighting style.
"I will be fighting in a more aggressive nature than I usually do. I will jab more and throw more power punches," Khan said.
'Magic' also highlighted that his defence has improved and the public can look forward to seeing an excellent offensive and defensive performance from him.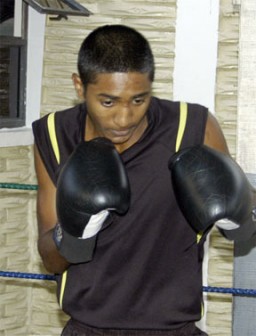 The eighteen-year-old flyweight pugilist who trains at the Harpy's Eagle Gym in Albouystown boasts a record of seventy-seven fights with thirteen losses and Sixty-four victories, with six coming within the distance.
Other amateurs who  will be on show include Romel Rowley of Ricola Warriors coming up against Akeem Daniels   of Harpy's Eagle Gym in the 85 to 89 pounds division.
In a middleweight bout Ian Bancroft will match gloves with Kelsie George.
Bancroft and Daniels represent Guyana Defence Force (GDF) and Pocket Rockets Gyms respectively. Also on show will be Republican's Nankumar Singh versus Ricola Warriors' Marvin Darrel in a junior lightweight contest.
Meanwhile in the main event of the card 'Lightning Struck Assassin' Kwesi Jones will defend his light heavyweight title against Cleveland Fraser.
A chiseled, orthodox fighter, Jones who has fought 10 times and has two losses should find Fraser the Barbados-based fighter a much tougher opponent than the ring rusty Anthony Augustin whom he defeated last month.
Also on the card, former amateur wonder kid Clive Atwell will be coming up against Gardel Roberts of Barbados in another four round junior lightweight affair.
On the distaff side, Veronica Blackman and Pauline London will be clashing for the third time. London is hoping that the third time will be lucky for her since she has lost both of the previous bouts against Blackman. London's abysmal record stands at three wins and eight losses with her most recent victory coming against Debbi Tyson last year July.
Blackman has a record of five wins and seven defeats.
Rounding out the professional card, Revlon Lake will take on Cecil Smith in a four-round catch-weight bout. Lake who is Guyana's reigning lightweight champion had a three-fight losing streak before he defeated Mark Austin in June.
He has five wins, five losses and two draws while Smith has only two wins in seven outings in the ring.
The card is scheduled to begin at 20:00 hours sharp.
Around the Web