GREENSBORO, North Carolina, (Reuters) – Americans  Jeff Quinney and Tommy Gainey carded seven-under 63s to share  the first round lead of the Wyndham Championship yesterday,  while others scrambled to qualify for the FedExCup playoffs. 
 
Quinney, chasing his first PGA Tour win, held the lead  alone for much of the day thanks to five consecutive birdies  from the 12th at a steamy Sedgefield Country Club.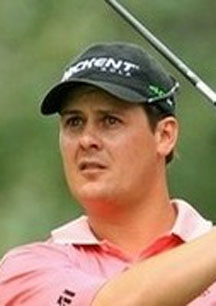 He was joined late in the day by Gainey, who signed off  with an unblemished round that included five birdies and an  eagle on the par-five fifth.  
Lurking one shot back is Australian Stuart Appleby, who  also enjoyed an error-free afternoon returning a 64.  
"I'm in a position right now where I've only played 11  events this year and haven't had a great go of it," Quinney  told reporters. "The only chance I get in the playoffs is  probably winning this week … just push all your chips in and  this is what I got." 
 
As the event is the last in the PGA Tour's regular season,  there was plenty of action on the leaderboard with some of  golf's bigger names battling for a place in the lucrative  season-ending finale.  
Only the top 125 players after this week qualify for the  first of the four FedExCup playoffs and former world number one  South African Ernie Els, Briton Paul Casey and major winners  Irishman Padraig Harrington and Argentine Angel Cabrera have  work to do to earn a spot in the Aug. 25-28 Barclays Classic. 
 
Casey and Els got their bids off to a positive start by  carding five-under 65s to join to a pack of 10 golfers sitting  two off the pace. 
 
Also in the group are Fijian Vijay Singh and American Jim  Furyk, whose round included two eagles on his first nine.  
Cabrera endured a rollercoaster afternoon mixing an eagle  and five birdies with four bogeys for a three-under 67 while  Harrington's chances of qualifying dimmed with 69. 
 
"You think about it (FedExCup playoffs)," admitted Els.  "It's one of the reasons why I'm here, you want to get in.  
"My playoffs have started this week because if I don't play  well this week I'm not advancing."  
American Jason Dufner, who lost the PGA Championship in a  playoff to Keegan Bradley after squandering a five-shot lead  over the final three holes of regulation on Sunday, carded a  solid 66 that included five birdies and a bogey. 
Arjun Atwal, who became the first player from India to  triumph on the PGA Tour at last year's Wyndham Championship,  got the defence of his title off to a miserable start with a  three-over 73.  
Around the Web