Guyana's male and female singles competitors sealed their spots in the final round of the singles competition of the 53rd Caribbean Table Tennis Championships which continued at the Cliff Anderson Sports Hall yesterday.
Idi Lewis was the first Guyanese to make it to the final sixteen for the male competition as he won his first three matches convincingly against Steven Bolt of Guadeloupe, Michael Nanton of Trinidad and Mark Dowell of Barbados at 3-2, 3-1 and 3-1.
Lewis who has been struggling a bit from the start of the tournament is seemingly finding his form and rhythm as the competition progresses. Speaking with Stabroek Sport, Lewis explained his thoughts on making the top sixteen while admitting that he is trying to find his form. "It was grueling…I'm not sure about winning the whole thing but I'm just looking at it as one match at a time," he said.
"The preparation for the tournament wasn't too good and I'm struggling a bit but as I keep playing I'm getting stronger. I'm thankful that I'm through to the top sixteen because it's been a struggle but my aim is just to take it one match at a time," Lewis continued.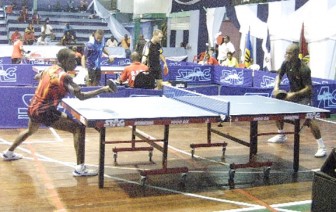 National singles champion, Nigel Bryan also looked in good form yesterday but the day ended badly for him when he lost a deciding match and failed to advance to the top sixteen. The 18-year-old lost his first match to Kevin Farley of Barbados but rebounded to win his next two before going out to Simon Tomlinson of Jamaica 3-2 in the deciding match-up.
"It's an unfortunate loss and I will definitely learn from it so that I can develop my game for next year," a disappointed Bryan told Stabroek Sport.
Meanwhile, Paul Meusa, who was runner-up to Bryan in the national championships after pulling out with cramps earlier this year, looked superb during the group stages as he lost only one match in his group to Juan Vila of the Dominican Republic.
Meusa used his forehand and backhand shots effectively against his opponents to make it into the top sixteen. On the female side of things, under-21 finalist of the Caribbean Championships, Trenace Lowe was in great form as her wide array of spin shots mixed with her use of short jabs and power shots was superior to her opponents as she dominated her group to ensure a spot in the final rounds of the competition.
Michelle John also looked in great touch for Guyana as she qualified with her only loss coming against Eva Brito of the Dominican Republic.
Natalie Cummings also made it into the top sixteen, her aggressive attitude ensuring she qualified as the number two seed in her group
Chelsea Edghill on the other hand, suffered in the group stages and will not feature in the top sixteen as she lost most of her matches.
The finals for both the male and female competitions will take place today at the Cliff Anderson Sports Hall from 10am.
Around the Web