Local beverage giant Banks DIH is on board for Sunday's 5th Annual Guyana Cup Horse Race Meet at the Port Mourant Turf Club Course on the Corentyne.
Banks DIH presented the Champions Trophy and other incentives at a simple ceremony at Thirst Park Thursday attended by Guyana Cup Coordinator Melissa Chattergoon, assistant Meet Coordinator Compton Sancho, Banks DIH Communications Manager Troy Peters, Outdoor Events Manager Mortimer Stewart and Outdoor Event Supervisor Mark Benjamin.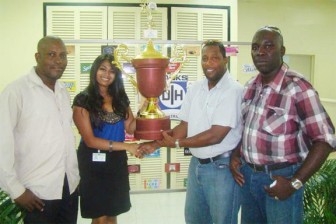 Peters said Banks DIH continues to support the development of horse racing in Guyana and extended best wishes to the organizers and participants.
Chattergoon disclosed that Banks DIH is a major sponsor of the 10-race programme which is held in collaboration with Jumbo Jet Stables.
She said that the Port Mourant Turf Club was pleased to welcome the company on board for the multi-million dollar Meet which will attract most of the country's top race horses and jockeys for prize money valued over $20 million.
According to Chattergoon the main event of the day's programme will be the Guyana Cup Classic for A Class and Lower horses for a top prize of $2million over a distance of 1400 metres.
The other races include the Zenyatta' Memorial for three-year-old for horses bred in Guyana and the West Indies for a first prize of $1.5 million as well as the Two Year Old Open.
Among the horses expected to compete are Marathon Man, Who's one the Case, Grande Roja, Prince Charming, The Message, Champtress, Home Bush Baby, Stormy Flame, Big Red, Technology, Northern Dancer and Better than Gold.
Starting time is at 12:00 hours.
Around the Web