Gandhi Youth Organization (GYO) and Police Sports Club recorded victories in the latest round of matches in the Queensway-sponsored 2011 Georgetown Cricket Association (GCA) Open 50 overs knockout competition yesterday, at the Demerara Cricket Club Ground and Police Sports Club Ground Ever Leary respectively.
At DCC, GYO defeated Guyana Defense Force (GDF) by four wickets. GDF, after losing the toss and batting, were bowled out for 121 in 28 overs. Guyana Under-19 wicket-keeper Kevon Boodie 30, Guyana opener Shemroy Barrington 22 and Marcus Watkins 26 were the leading scorers.
Off-spinner Shaeed Mohamed was the main wicket-taker for GYO with miserly figures of 7-3-5-4. His main support came from Shiveshwar Sankar with 2 for 3.
GYO, in reply, reached 124 for 6 in 34 overs. Mohamed completed a good all-round game by top scoring with 46 with Kumar Singh being other significant contributor with 26. Off-spinner Randy Lindore, led the GDF bowling effort with 3 for 24.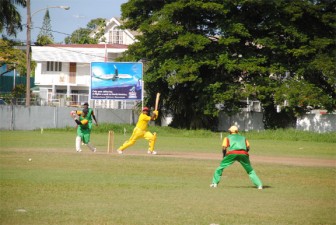 At Eve Leary,  the home side clinched a commanding 167-run victory of over Vikings XI. Having first use of pitch after they won the toss, Police racked up an impressive 309/8 in their rain-shortened 43-over innings. Jason Heyliger, Vishaul Jaigobin and Paul London were the principal scorers with 46, 45 and 43 runs respectively. Trevon France had the best bowling numbers for the Vikings with 3 for 54 from his quota of 10 overs.
The rain interruption saw Vikings XI presented with a revised target of the Duckworth/Lewis method (DL) of 243 in 30 overs. However, they never stayed in the chase as they were routed for 76 in 19.3 overs. Only lower-order batsmen Trevon Francis and Abdool Kumar with scores of 17 and 16 respectively, reached double figures, as the Vikings XI who boasted the likes of former GCC batsman and 2002 winning Saint Stanislaus, National School cricket Captain Vivikenand Dalloo and former Everest batsman Ryan Hemraj, top-order batsman failed to contribute meaningfully.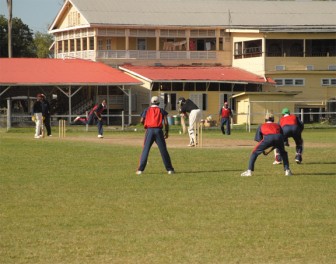 Wickets were shared evenly in the bowling rout for Police, with Trevon Benn (3-22), Jason Heyliger (2-4) and Rudwayne Wade (2-23) being the beneficiaries.
The competition continues today with Malteenoes facing Third Class at Eve Leary and D.C.C hosting Transport Sports Club at D.C.C Ground.
Around the Web