Lindener Mark Lewis won the School Boys and Invitational feature 35-lap race at yesterday's 8th Annual Seven Seas/Geddes Grant Limited  sponsored 10-race cycling programme at the inner circuit of the National Park.
Lewis, who hails from the mining town of Linden, won in a time of one hour, 16 minutes, 41.91 seconds in the race that attracted 42 starters.
The in-form Junior Niles had to settle for second position  while Marlon "Fishy" Williams was third.
Former national rider Raymond Newtown was fourth with Robin Persaud claiming fifth place and John Charles sixth.
Niles captured seven of the eight prime prizes at stake while Lear Nunes took the other.
Niles secured victory in the Veterans Under-50 category beating into second position Kennard Lovell with Virgil Jones claiming third spot. Lancelot Rose copped a win in the Veterans 50 years and over from Wilfred Thom and Omar Mc Dougal.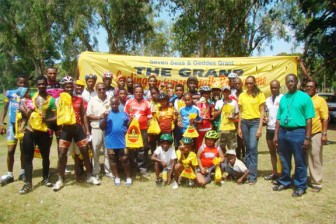 Maurice Fagundes continued his dominance of the Veterans 60 years and over race with Neville Atwell finishing second and Harry Lall third.
Another Lindener Hazina Barett won the ladies race from Naomi Singh and Marica Dick.
Delius Richardson placed first in the Juveniles race ahead of Shaquille Agard and Hector Edwards 111.
Mario King dominated the Upright with Raphael Albert finishing second and Dexter Wilson third.
Jamal Arthur won the BMX 6-9 years category event from Thuran Garbarran and Nicholas D'Andrade while the boys BMX 9-12 was taken by Yannick La Rose from Deeraj Garbarran and Jamal Arthur.
Adrian Sharma reigned supreme in the boy 12-14 BMX beating into second position Christopher Griffith while Garbarran placed third.
Sharma was also the winner of the BMX Open from Richardo Sharma while Cleveland King ended third.
National Cycle Coach Hassan Mohamed who organized the event thanked Seven Seas and Geddes Grant for their continued support.
He said the races were organized as part of the Annual Teach –Them-Young program e and Geddes Grant distributor of Seven Seas in Guyana has been sponsoring this programme for the past eight years.
Product Specialist Karen Connell who represented  Geddes Grant/Seven Seas  said her company promotes healthy living and she urged cyclists to continue to promote healthy lifestyles.
Around the Web