The Knights Basketball Club held its second edition of its celebrity charity game at the Cliff Anderson Sports Hall last night.
The main aim of the event was to raise funds for The Support Group for Deaf. The celebrity game featured some of Guyana's top entertainers, persons working in the media, sportsmen and women and fashion designers.
"It wasn't just a game or an entertainment event it was a positive initiative to give back to a charity," Public Relations Officer of the club and participant Kiev Chesney said yesterday.
He also stated that his club started giving proceeds of the event to different charities with Joshua's House being the beneficiary of last year's tournament.
Funds were raised by the selling of tickets and jerseys.
Contributions were also made by concerned citizens and prominent business organizations namely Digicel, Ansa McCal, Len's Craft Optical, Giftland Office Max and Dyna's Embroidery.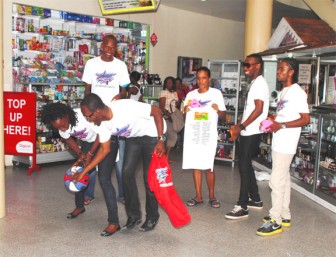 Chesney added that the club was encouraged to give most of the proceeds of the event to The Support Group for Deaf persons because the charity needed financial aid just like any other charity. He also highlighted the fact that deaf persons are often ignored and said the club wanted to shed some light on that group of persons hoping that other persons and organizations would support them in the future as well.
Director of the Support Group, Leon Walcott mentioned that the initiative was a commendable one adding that it was the first time a sports organization or a sports club has contributed to the group, a fact that he said, they were very happy about.
Some of the local celebrities that played last night were rapper Don Gialiani, Dj Casual, fashion designer Trevor Rose, former Soca Monarch and X2 member, Adrian Dutchin, 2010 Sportswoman of the Year, Shondell Alfred and Digicel Live host Dellon Peters.
Around the Web