A dominoes team, led by Edmund Sammy and including former Guyana Chronicle Sports Reporter, Frederick Halley, ran out winners on Wednesday when the final of the Manniram Shew, three-team tournament was held.
The other members of the winning team were Ron Callender, Martin Premaul, Gary Jansen and Orin Boston.
Some 18 players drawn from three teams, International 6, Strikers and F&H Supremes, contested the mixed teams domino match.
The names of the 18 players were placed in a bag and were picked out at random.
The teams were led by Colin Hicken (H6), Intikab Alli (A6) and Sammy (S6).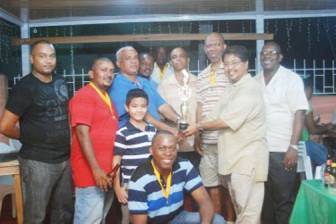 The other players for H6 were Robert 'Pacer' Adonis, Sonia Goodluck, Hugh Gordon, Safraz Ali and Wayne Austin while the members of A6 comprised Manniram 'Packer' Shew, Navin Samaroo, Chales Dodson, Roderick Harry and Hilbert Ali.
Upon conclusion of the tournament, medals were presented to Halley, Jansen and Callender for the winning team while Harry and Ali were the top players for the runners up.
Adonis, who made the maximum 18 games, starred in a losing cause for his team.
There was one lovebird in Sonia Goodluck, who fittingly, was taken down lovers lane by none other than Halley.
Around the Web