KARACHI, (Reuters) – Waqar Younis will quit  as Pakistan coach for medical reasons after next month's tour of  Zimbabwe, he said yesterday.
Waqar, whose contract was due to run until 2012, announced  his resignation at a news conference in Lahore.
"I have no issues with anyone but because of medical reasons  I have decided I can't continue as coach after the Zimbabwe  tour," said the former fast bowling great without elaborating.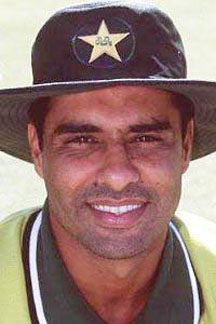 "The PCB (Pakistan Cricket Board) has accepted my  resignation."
Waqar, 39, lives in Sydney and the board's chief operating  officer Subhan Ahmad told Reuters that he needed to go to  Australia for treatment.
"We didn't want him to go but after he explained things to  us we understood he needed to be with his family," Ahmad said.
"We are thankful to him that he agreed to go to Zimbabwe. We  will now begin the process of looking at suitable candidates for  the coaching position."
Former test captain Waqar was appointed coach after the team  suffered a poor tour of Australia last year.
WHOLESALE  CHANGES       
His resignation comes at a time when the PCB has just made  wholesale changes to the backroom staff, removing long-serving  manager Intikhab Alam and assistant coaches Aaqib Javed and  Shahid Aslam.
The board said the trio needed to give more time to their  duties at the national cricket academy.
Governing board member Naveed Akram Cheema will be the  manager in Zimbabwe and former test batsman Ijaz Ahmed the  assistant coach.
Waqar took charge after Pakistan were whitewashed in  Australia on a tour where he worked as bowling consultant.
He had a tough time during the 2010 series in England after  then-captain Salman Butt and pacemen Mohammad Asif and Mohammad  Amir became involved in a spot-fixing scandal.
Pakistan then enjoyed a good 50-over World Cup under Waqar's  supervision earlier this year, reaching the semi-finals.
After the tour to West Indies this May, former one-day  captain Shahid Afridi spoke of differences he had with Waqar  over selection issues.
Waqar, who took 373 wickets in 87 tests and claimed 416  victims in 262 one-day internationals, underlined that his  decision to resign had nothing to do with the recent changes in  the Pakistan set-up.
"I am now living in Sydney with my family and I need to  spend more time there," he said.
"I have enjoyed the challenges of working with the Pakistan  team. I am disappointed I won't be able to continue with them in  this transition period."
The tour of Zimbabwe includes one test, three one-dayers and  a Twenty20 international.
Around the Web