LONDON, (Reuters) – England swept to a series  whitewash over India in the fourth test at the Oval yesterday after Sachin Tendulkar had been dismissed nine runs short of a  100th international century.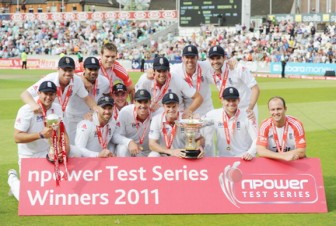 Seven wickets fell for 21 runs on the final day, after  Tendulkar and nightwatchman Amit Mishra (84) had added 144 for  the fourth wicket, to give England victory by an innings and  eight runs.
Off-spinner Graeme Swann, who had had little opportunity  previously in the series, finished with six for 106 and had  Tendulkar dropped twice off his bowling.
India relinquished their spot at the top of the world  rankings when they lost the third test at Edgbaston by an  innings and 242 runs.
"You're getting really strong performances from all 11  players," England captain Andrew Strauss told the BBC. "It's  been up there with the best series we've played as a group.     "We've had a lot of victories over the last couple of years  and we expect to win matches now."
Tendulkar and Mishra batted through the morning session  after India had resumed on 129 for three with three top-order  batsmen already out, including Rahul Dravid who scored their  only three centuries in the series.
Mishra, who scored an ebullient 43 in the first innings,  again showed up his more illustrious team mates.
He took fours in consecutive overs off Swann, whipped Stuart  Broad through mid-wicket for four and equalled his previous best  test score of 50 by dabbing Tim Bresnan for two.
Tendulkar, resuming on 35, cut James Anderson's second ball  to the boundary.
He upper-cut the England pace bowler for another four and  moved smoothly to his second half-century of the series from 74  balls.
          TENDULKAR TROUBLED
Broad, who was named England's man of the series after  taking 25 wickets and scoring 182 runs, again troubled Tendulkar  outside the off-stump but Andrew Strauss's decision to bowl Ravi  Bopara relieved the pressure.
Tendulkar stroked two boundaries through the off side and  had reached 70 when Alastair Cook failed to gather an inside  edge on to the pad off Swann which rebounded off the short-leg's  chest.
Swann was denied Tendulkar's wicket for a second time when  Matt Prior behind the stumps failed to hold on to a thick edge  when the batsman was on 85 after the interval.
Tendulkar pulled and swept Kevin Pietersen for four to move  into the 90s and a century seemed inevitable when he lost  Mishra, bowled pushing down the wrong line to Swann.
In the next over, Tendulkar was dismissed lbw to the first  ball of a new spell by Tim Bresnan and the Indian innings then  imploded.
Suresh Raina completed a pair when he was lbw to Swann,   although replays indicated the ball had gone from bat to pad and  captain Mahendra Singh Dhoni (3) was smartly held at second slip  by Swann off Broad. Broad and Swann then brushed aside the tail.
"When you enforce the follow-on, you're always asking a lot  of the bowlers, especially on a flat wicket," Strauss added.
"They're pretty tired after a long series but thankfully  they made one last push to get over the line.
"Sachin was playing very well, Mishra played exceptionally  well, we were struggling for ideas there for a little while but  we knew with one wicket it could change."
SCOREBOARD
England first innings 591-6 declared (I. Bell 235, K.  Pietersen 175)
India first innings 300 (R. Dravid 146 not out)
India second innings (overnight 129-3)
V. Sehwag b Swann                                                          33
R. Dravid c Cook b Swann                                                13
VVS Laxman b Anderson                                                  24
S. Tendulkar lbw b Bresnan                                               91
A. Mishra b Swann                                                           84
S. Raina lbw b Swann                                                         0
MS Dhoni c Swann b Broad                                                3
G. Gambhir c Morgan b Swann                                            3
RP Singh c Prior b Broad                                                    0
I Sharma not out                                                                 7
S. Sreesanth  b Swann                                                         6
Extras (b 12 lb 7)                                                              9
Total (all out; 90.6 overs)                                                283
Fall of wickets: 1-49 2-64 3-118 4-262 5-262 6-266 7-269  8-269 9-275
Bowling: Anderson 17-4-54-1, Broad 20-6-44-2, Swann  38-6-106-6, Bresnan 11-2-30-1, R. Bopara 3-0-13-0, K. Pietersen  2-0-17-0
Result: England won by an innings and eight runs
England won the four-match series 4-0       (Editing by Toby Davis)
Around the Web