Guyana's national football team 'The Golden Jaguars' will look to impose their will on the Indian national team when a friendly game of football gets underway between the two nations at the Guyana National Stadium, Providence, tomorrow from 19:00hrs.
Guyana played India once in 1984, winning 3-0, according to acting president of the Guyana Football Federation (GFF) Franklin Wilson at a press conference yesterday at the Guyana Telephone and Telegraph (GT&T) head office.
He said the GFF is honored to host the team for the friendly match-up.
"We're happy to have you here in our country and I wouldn't want to say whether we will increase the margin of victory from the 1984 game but we look forward for the game on Wednesday. It's going to be a good game and I trust that beyond the field of play we could work together to develop football.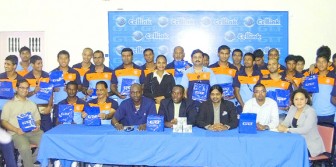 "We are also looking at this as the start of our 2014 World Cup campaign…we have to play Barbados on the second and Bermuda on the sixth right here at Providence.  Trinidad is also in our group and only the top team will qualify for the next round," Wilson said.
India who is ranked at 153 in the world according to their coach Arman Do Colaco will look to learn more from the game rather than thinking about winning or losing.
  "I want to say thanks for hosting us and we promise that the boys will play a good game and we hope that our relationship continues to work well in the future," Do Colaco stated
When asked by Stabroek Sport how they find playing the game of football since they are not known as a football nation, Do Colaco said "we are more known for our cricketing legacy but we had good footballers as well.
We have some good players on this team but we're in a transitioning phase and you probably will hear more of the India national team in the next five to ten years," the Indian coach revealed.
He also pointed out that while they are looking for the experience and to learn from the game, India's strength will be in their youth.
"We have come for the experience and are looking to learn but our strength is in our young promising players that are mainly under-23 players and are looking to prove a point," he stated.
The Indian coach also disclosed what his attack might look like  when he told Stabroek Sport he is looking to play  the 4-4-2 formation while he wants to attack more from the wing.
GT&T's Chief Executive Officer, Yog Mahadeo was also present at the media briefing and welcomed the Indian team to Guyana but predicted that the Golden Jaguars will defeat the Indians by a heavy margin.
"We are very happy to have you here and we're looking forward for a fantastic game. We have allowed you to beat us at cricket but it won't happen in football," the CEO stated.
Meanwhile Pele Football Club will take on Bakewell Top XX in a Fastball match-up from 7pm followed by the international friendly between Guyana and India.
Around the Web