COLOMBO, (Reuters) – Lasith Malinga became the first  bowler to take three one-day international hat-tricks as Sri  Lanka beat Australia by four wickets in the fifth and final  match of their series yesterday.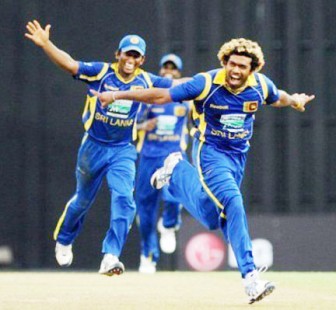 Mahela Jayawardene and Chamara Silva made half-centuries to  lead Sri Lanka to their target of 212 with three overs to spare  after pace bowler Malinga wrecked the Australia innings with a  devastating burst in his eighth over.
He bowled Mitchell Johnson, trapped John Hastings lbw and  bowled Xavier Doherty as the touring side, who won the series  3-2, lost their last five wickets for just one run to be  dismissed for 211.
"We were stoked to win the series," Australia captain  Michael Clarke told reporters. "It was pretty disappointing the  way we played today. There is still a long way to go. We have  some work to do ahead of the tests."
Sri Lanka captain Tillakaratne Dilshan praised his attack.
"The bowlers put in a fantastic effort and today the  middle-order did the job for us," he said.
"Chamara Silva batted really nice and his partnership with  Mahela set up the win."
Shane Watson was Australia's top scorer with 56 off 84 balls  and Clarke made 47 off 67 deliveries.
Sri Lanka lost their first three wickets for 33 and were  also hampered by a rain interruption but Silva and Jayawardene  shared a fourth-wicket partnership of 111 off 126 balls to get  their run chase back on track.
Silva fell for an entertaining 63 while Jayawardene was  content to play the sheet anchor role with 71 off 119 balls.
SCOREBOARD
Australia innings
S. Watson c Tharanga b A Mendis                  56
S. Marsh b Eranga                                             2
R. Ponting c sub b Mathews                           31
M. Clarke c Sangakkara b Eranga                     47
M. Hussey c Sangakkara b Prasanna                  6
D. Hussey b A. Mendis                                  46
B. Haddin c Jayawardene b A. Mendis       8
M. Johnson b Malinga                                         1
J. Hastings lbw b Malinga                                  0
X. Doherty b Malinga                                       0
J. Pattinson not out                                          0
Extras: (b-2 lb-2 nb-2 w-8)                          14
Total: (all out, 46.1 overs)                           211
Fall of wickets: 1-4 2-71 3-127 4-146 5-167 6-210 7-211  8-211 9-211
Bowling: Malinga 8-2-35-3 (2w, 2nb), Eranga 8-0-45-2 (5w),  Prasanna 10-1-37-1, Mathews 3-0-6-1, J. Mendis 8-0-35-0, A.  Mendis 9.1-0-49-3 (1w)
Sri Lanka innings
U. Tharanga c Haddin b Johnson                     0
T. Dilshan b Pattinson                                 17
K. Sangakkara c Haddin b Pattinson                   7
M. Jayawardene c D Hussey b Doherty           71
C. Silva c Hastings b Doherty                     63
A. Mathews c Doherty b Watson                 26
J. Mendis not out                                         7
S. Eranga not out                                         0
Extras: (lb-7 w-15)                                     22
Total: (six wickets, 47 overs)                   213
Fall of wickets: 1-4 2-12 3-33 4-144 5-195 6-209
Did not bat: S. Prasanna, L. Malinga, A. Mendis
Bowling: Johnson 10-0-45-1(4w), Pattinson 10-1-41-2(1w),  Doherty 10-0-54-2, Hastings 10-0-28-0(8w), Watson 6-0-33-1 (2w),  D. Hussey 1-0-5-0
Around the Web