The Texaco Bel Air Service Station yesterday partnered with the Guyana Chess Federation to be the exclusive sponsor of a One Day Rapid Chess Tournament that will be staged this Sunday at the West Demerara Secondary School.
In a simple presentation ceremony proprietor of the business Lalta Gainda, a former chess player who represented Queen's College, yesterday, handed over the sponsorship cheque to president of the GCF, Shiv Nandalall.
Nandalall expressed the federation's appreciation of  the business for its support in the development of chess, while pointing out that it is such support that will guarantee the continued growth of the game.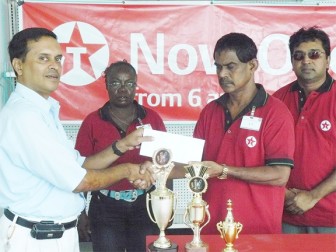 This  is the fifth one-day rapid chess tournament that the federation has held ths year, having announced hopes of holding six of such tournaments before the end of the year.
This is also the second one being held on the West Bank, while another was also held in Linden.
Nandalall stated that the tournaments are aimed with a focus on the development of the junior players.
Registration for the tournament is expected to begin at 9:30am, with matches beginning one hour later.
The Swiss System tournament will consist of eight rounds with a time limit of 40 minutes per game.
The tournament is open to all male and female junior and senior chess players.
Tournament fee for senior non-members of the GCF is $500.00 and juniors $300.00, while senior members will pay $300.00 and junior members $200. Trophies and cash prizes are at stake.
Interested players can contact Irshad Mohamed on 664-1650 or Shiv Nandalall on 225-8270 during office hours for further details.
Around the Web