St John's, Antigua – Jamaican all rounder Nkrumah Bonner, who was yesterday named on the West Indies Twenty20 squad for two matches against England has said that his time at the Sagicor High Performance Centre has helped his game significantly.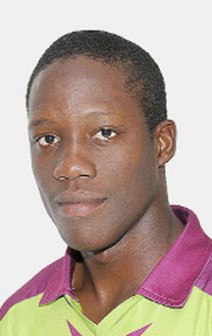 "I must say, the time spent at the Sagicor HPC is the reason why I'm here. The work I did there paid off in a big way. It helped me with my game in every department," said Bonner who was among the first batch of students in the Sagicor HPC's inaugural year which commenced in 2010.
"I'm fitter, mentally stronger and much bettered prepared for every time I take the cricket field. I just want to take all I've gained into my game into the West Indies team," Bonner said.
The 22 year old leg spinning all rounder is a former West Indies Under-19 player and also represented his native Jamaica at the First Class level.
"I'm very happy to catch the attention of the selectors. From my youth growing up it was always the ultimate goal to represent the West Indies at international level and this is my start," Bonner said from his base in Kingston.
Bonner is one of four rookies who have been included in the squad. The other three are Vincentian opener Miles Bascombe, Guyanese wicketkeeper Derwin Christian and St Lucian top order batsman Johnson Charles.
Like Bonner, Bascombe, a hard-hitting 25-year-old, represented Combined Campuses & Colleges in the Caribbean T20 Tournament earlier this year.
Bascombe, who is pursuing a Masters Degree at the Cave Hill Campus of the University of the West Indies, is focused on what he wants to achieve in the short-term and long-term. In the early stages of his career the tall right-hander played First Class and Regional 50 Overs cricket for Windward Islands.
He said: "The news came as a big surprise, but it feels great to be selected to play for the West Indies. It is exciting to be recognized and these two matches in England will give me a chance to make my mark.
We have the ICC World T20 coming up next year [in Sri Lanka] and my aim is to do well and look to remain in the West Indies team for some time to come. This is my beginning."
The 28 year-old Christian is a power-hitting wicket-keeper, who represented Guyana at the Champions League T20 Tournament in South Africa last year.
Christian was overjoyed when he received the news of his selection.
He said. "It's great to get a chance to wear the West Indies maroon shirt. I was overjoyed and excited when I got the good news. For me it is a great honour and privilege to represent the people of the Caribbean. I am a confident player and I believe in my ability.
I am a team player and I will bring a lot of energy to the team."
Charles, 22, is a strongly-built right-handed middle-order batsman, and will become the second St Lucian after skipper Darren Sammy to represent the West Indies.
Charles too was delighted to make the squad.
"It's like a dream come true for me. I've wanted this all my life. My dream is to play Test cricket, and to make the T20 team is one step towards that goal," Charles said.
"I always prepare well and make sure I give myself every chance of being successful. My approach will be the same in the West Indies team. I will look to contribute to the team's success and build on every opportunity I get," he said from Castries.
The four players have been named in the squad for the matches at the Kia Oval in London on Friday, September 23 and Sunday, September 25.
Around the Web